Ane Tonga: Pacific glam at the gallery
Ane Tonga, the new Pacific Art Curator at the Auckland Art Gallery, wants to encourage more diverse content and audiences to the gallery. By Linda Tyler.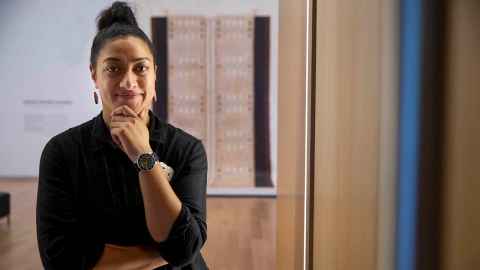 In late 2019 Fine Arts and Art History graduate Ane Tonga was appointed to a new curatorial position dedicated to Pacific Art at the Auckland City Art Gallery.

Ane is the inaugural appointment to the role, but many believe her position is long overdue, since Census statistics show about 200,000 people from 30 Pacific groups live in Auckland – about two-thirds of the country's Pacific population. The Pacific Art Curator role has come about through funding from private benefactors who make up the Auckland Art Gallery Foundation.
"The creation of the position reflects the gallery's commitment to Pacific communities," says Ane. "Curatorial roles are rare, particularly those related to contemporary Pacific art. That's something pointed out to me by a mentor and senior Pacific curator, who told me, 'I'm glad this day has finally come around. I hope this sets a precedent for us as Pacific people to continue telling our own stories'."
Pacific people are not represented in great numbers in the collection. An online search turns up 71 works, most without images, in the gallery's database of 15,000 items. Ane is set to change that and also to encourage regular Pacific visitors to the gallery, once lockdown is over and public spaces become the norm again.
The aim of her position is to give greater visibility to Pacific narratives in the gallery's collection, as well as increasing access and engagement with Pacific art and artists.
"I was surprised that there was relatively little discourse focused on curatorial practice in Aotearoa and found even less related to contemporary Pacific art," says Ane.
"Tracing and arguing for Pacific curatorial practices has given me a better understanding and appreciation for the work of others who have paved the way for me and others to find a place in the galleries, libraries, archives and museums [GLAM] sector."
Ane's family is from Tonga, although she was born in Auckland. Like thousands of others from the Pacific Islands, her parents came to New Zealand in the 1970s to give their family better opportunities. Ane excelled at Epsom Girls' Grammar and gained a place at Elam in 2007 where she developed a photographic practice but also curated her first exhibition. As a Tuākana mentor at the University, she connected Māori and Pacific art students and organised an exhibition at Art Station in Ponsonby Road.
"Becoming a tuākana provided an opportunity to learn about Indigenous frameworks that continue to play a role in many facets of my life," says Ane. "There's mutual respect and learning that happens between a tuākana and teina."
Curatorial roles are rare, particularly related to contemporary
Pacific art. 
Completing her honours studies with papers in critical thinking, Tongan language and contemporary Pacific Art in 2010, she knew she wanted to continue working as both an artist and a curator. The Blumhardt Curatorial Internship at the Dowse Art Museum in 2012 resulted in an exhibition of photography, sculpture and digital art by Korean, Māori, Samoan and Pākehā New Zealanders, including two of her former teachers at Elam, Sean Kerr and Michael Parekowhai.
Ane became assistant curator of contemporary art at Te Papa Tongarewa then completed a postgraduate diploma in museums and cultural heritage, including a paper in art writing and curatorial practice taught by poet and distinguished alumnus Ian Wedde.
An exhibition of her photos of nifo koula – gold-plated teeth – at the Gus Fisher Gallery in 2014 drew acclaim. As Dunedin Public Art Gallery's curatorial intern in 2015, she curated The Future Is a Do-Over and later was lead exhibitions curator at Te Whare Taonga o Te Arawa. When seismic strengthening to the Rotorua Museum building was required, she returned to Auckland to work as a tertiary teacher and freelance curator.
Her recent curatorial projects, a survey of arts alumna photographer Edith Amituanai at the Adam Art Gallery and two exhibitions at Objectspace – a representation of alumna Ani O'Neill's sculptural works from the 1990s and embroidery by refugee Lema Shamamba from the Congo, have been acclaimed as both sensitive and significant.
She has undertaken them while writing her MA thesis on Pacific curatorial practice in New Zealand between 1965 and 2019, supported by a Kupe Leadership Scholarship in 2019. She was supervised by University of Auckland Pacific Art expert, Dr Caroline Vercoe, and mentored by Jenny Harper, the recently retired Director of Christchurch Art Gallery.
She took up her new role on 2 March, somewhat unfortunate timing in light of what was to occur on 23 March. She's cheerful about it.
"I've used the time to work on projects, write and maintain a supportive role for our artists and our communities."