Marsden Grant for study about Unitary Plan's impact on housing affordability
Te Pūtea Rangahau a Marsden, the Marsden Fund, has awarded $870,000 to Dr Ryan Greenaway-McGrevy, and Professor Peter Phillips from the University of Auckland for their research project investigating the Auckland Unitary Plan's effect on affordable housing.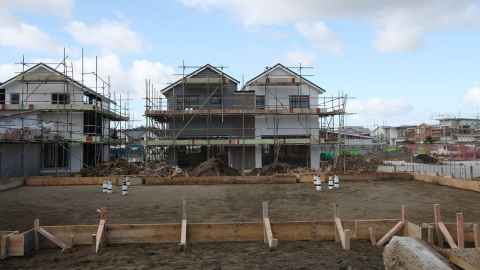 Their project is entitled 'Will upzoning deliver housing affordability for everyone? Evidence from Auckland, New Zealand.'
"A growing coalition of policymakers and researchers around the world argue that the solution to increasingly expensive housing is to 'upzone': relax land use regulations to permit construction of more intensive housing, such as townhouses, terraced housing and apartments," says Greenaway-McGrevy.
"However, there are no empirical studies on the effects of large-scale upzoning on housing affordability, construction, and accessibility, leaving questions regarding the efficacy and optimal design of policies unanswered.
Our project builds an evidence base to answer these questions and inform ongoing debates by providing the first case studies on the effects of a sweeping, large-scale upzoning: The Auckland Unitary Plan," he says.

Research, Science and Innovation Minister Megan Woods says "We've designed our funding so it can address real-world problems, while also giving researchers the freedom to innovate and come up with new ways to solve problems."
Dr Ryan Greenaway-McGrevy from the Faculty of Business and Economics is an econometrician working in both the theoretical and applied fields of the discipline. His theoretical research focuses primarily on developing methods for forecasting panel data structures, while his applied research focuses on urban and regional economics, international finance, and labour economics.

Professor Phillips is an Alumnus Distinguished Professor in the Department of Economics with research interests in econometrics, time series, financial econometrics, panel data models, multivariate analysis and empirical macroeconomics. His work on finite sample theory, continuous time, trending time series, unit roots and cointegration, spurious regression, financial bubble detection, and partially identified models have subsequently developed into major fields of scientific inquiry and influenced applied research in economics, finance and more widely in the social sciences. Peter is the Founding Editor of the Cambridge Journal, Econometric Theory and Founding Editor of the Cambridge Advanced Texbook Series, Themes in Modern Econometrics. He has an extended family fellowship of some 90 PhD students many of whom are now prominent econometricians.
This year, Te Pūtea Rangahau a Marsden, the Marsden Fund, has allocated $84.751 million (excluding GST) to 134 research projects across a wide range of disciplines from Biomedical Sciences, Engineering, Mathematics, Physics and Chemistry through to Social Sciences including Maori studies, public policy and social linguistics and the humanities.
Te Pūtea Rangahau a Marsden, the Marsden Fund is managed by Royal Society Te Apārangi on behalf of the government.