University of Auckland students and alumni shine at Tokyo Olympics
With two University of Auckland students winning golds and one alum winning bronze, there is plenty to celebrate from the Tokyo Olympics.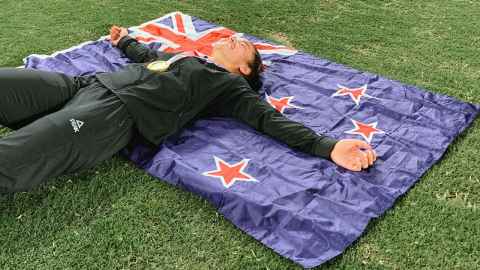 For sports fans it was exhausting undertaking a marathon of Olympics spectating from the couch from 23 July to 8 August.
Imagine the exhaustion of the athletes.
But also imagine the exhilaration, especially for our two gold-medal winning Olympian students Theresa Fitzpatrick (women's Sevens) and Michael Brake (men's rowing eight).
It was the second Olympics for both athletes and Bachelor of Health Sciences student Theresa says the gold medal victory was particularly sweet after the team had to settle for silver in Rio 2016.
Now sitting in MIQ for two weeks, Theresa says it's hard to believe and she's looking forward to celebrating with family and friends.
"It honestly still feels like a dream," she says. "I don't know if it will ever sink in – this Olympic campaign has been a rollercoaster with plenty of ups and downs and turns, so to get to the end with a gold medal seems surreal. I am so proud of what our team has achieved.
"With crazy uncontrollable events happening it was very important for us to stay aligned, resilient and connected during this time. Our bond with each other is something special and that really got us through the past five years."
After a brilliant comeback against Fiji (22-17) in the semi-final, NZ won gold on 31 July, beating France in the final 26-12. Theresa says the Sevens team has a way of dealing with pressure.
"We have a saying in our team and it's that it is 'privileged pressure'. There are times when stress levels are high, but we know that we are blessed with an amazing job and opportunity to represent our family and country.
"Although our training and lifestyle may seem like high pressure, compared to others with real-life struggles and pressures, it is in fact a blessing as it provides so much. Perspective is key."
The Sevens team also created a way to deal with the mental health challenge of being in MIQ. They all took part in a spinbike challenge that saw them cycle 12-13km every four hours over 48 hours – including in the middle of the night. It was their version of the 4x4x48 challenge popularised by ex-Navy Seal David Goggins. 
"Stacey [Fluhler] put up a story on Instagram and asked her followers if they had any ideas for things to do in MIQ," explains Theresa. 

"It started off as a crazy challenge to fill in time, but on reflection it was a way of showing how strong the mind is and how perspective can change a whole mindset when you're facing challenges."

She says another challenge has been studying while training but that's been made easier by staff at the University.
"I was very lucky to have support and help from my lecturers and other staff. A special shout-out to Toby Batchelor from the High Performance Support Programme. I had an exam at the beginning of the Olympic campaign that I sat in Townsville which was a little bit of a challenge with training and team activities.
"I'm now trying to catch up in MIQ. I am so grateful for the support because it's allowed me to focus on my tournament then help with the transition back into study."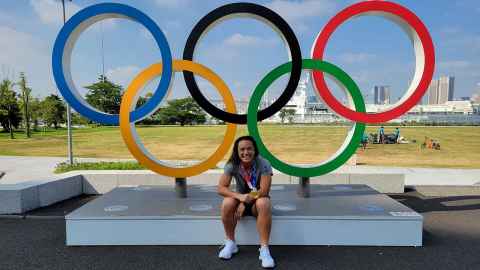 There are times when stress levels are high but we know that we are blessed with an amazing job and opportunity to represent our family and country.
However there have been some distractions. Theresa's older sister Sulu, who is also studying at Auckland (BA, sociology) and won the Major Pasifika Blues Award in 2020, created plenty to smile about. She and her Northern Mystics netball side made history on on 8 August, winning their first ANZ Championship Final, earning the silverware by beating the Tactix 61-59. Then on 10 August she was named in the Silver Ferns squad. 

So there's silverware and goldware in the family - keep an eye out on campus for Theresa's gold medal which she says she will bring in one day, especially as she's planning to keep it close to her for at least a year!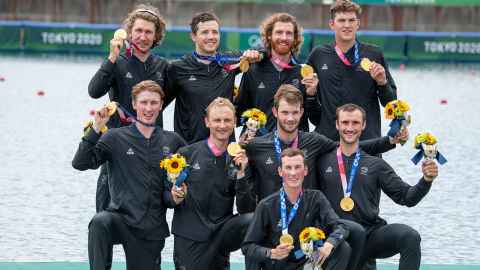 Engineering student Michael Brake was also at his second Olympics. He was part of the crew that won gold on 30 July in spectacular fashion, after qualifying for the final the hard way – through the repêchage.
In the final they beat Germany, who had won every World Champs event since 2016.
Michael is still getting his head around it.
"I always knew that our support team was gold-medal standard and that the pieces were in place for a good performance, but I was expecting to be battling for a bronze medal. To come away with the gold has been seriously surreal."
He says the composition of youth and experience in the boat worked well and the crew clicked. 
"It was a good mix and a belief that we had done the mahi and had built some gold-
medal standard (that's actually what we called it) processes that would stick with us through the final," says Michael.  "The young guys brought a lot of enthusiasm and the old guys brought reassurance that we were on track. It was a good mix."
Michael, who rows out of the North Shore Rowing Club, says although winning the gold medal was "cool", his fondest moment from the Olympics was a very Kiwi celebration.
"The whole team did the Olympic haka for our Sevens women when they came back to the hotel  from their win. So that was 100 people doing the haka towards the women as they did it right back. It was a very special moment. Those women are wāhine toa and such a special group and I hope to learn from their culture."
Michael is working towards his BHons in Civil Engineering, but by necessity it's had to be part-time. 
"Most of my study has been extramural which has been a challenge at times," Michael says. "Fortunately the University has been incredibly supportive and course coordinators tend to be accommodating when I give them an early heads-up of my situation. I typically get through two to four papers a year now, to balance study with training and other commitments. It's a crawl but I'm almost over the line!"
Like the other athletes, he says the High Performance Support Programme has been critical to keeping him enrolled. 
"I've been studying since 2013 and have worked with many different faces over the years. I've had a lot of help from Toby Batchelor recently and the guy is amazing. If you're a high-performance athlete wanting to study at UoA while training, Toby and his team will make it possible. The dude is a wizard."

He says he hasn't yet decided what to do with his gold medal. 
"I saw Eric Murray's Olympic medals a while ago and they were so roughed up. I was shocked and asked him if he was gutted. He told me not at all and that he's proud of how many people he's been able to inspire and share them with. I like that."
I was expecting to be battling for a bronze medal. To come away with the gold has been seriously surreal.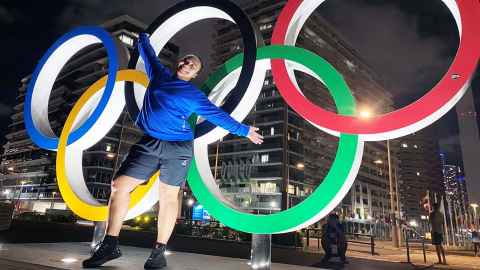 Student Kanah Andrews-Nahu (Ngāpuhi, Ngāti Porou) is just 20 years old and represented New Zealand in weightlifting (87kg) at her first Olympics.
"I didn't perform as well as what I wanted to, but this made me realise how much more I want to put into my sport," says Kanah. "It has been a really eye-opening experience."
She says being in Tokyo during a pandemic was also eye-opening.
"Everywhere you went, everybody was wearing masks. Being in such a vulnerable environment made me realise how good we have it in New Zealand."
She says weightlifting is very much a mental game.
"The biggest challenge for me was continuing to compete despite having so many unnecessary and unhelpful thoughts flooding my mind.
"But it was also amazing being in the presence of absolute excellence from all around the world."
Kanah also sends a shout-out to the High Performance Support Programme at the University.
"Toby Batchelor from the programme has been so accommodating and understanding of my journey, and I am incredibly grateful for that."
Arriving back in MIQ on 8 August, she was straight back into her studies.
"I'm doing a Certificate in Health Science and my 'Certificate family' deserves a mention too. Arohanui ki a koutou!"
It was amazing being in the presence of absolute excellence from all around the world.
Toby, the University's High Performance Support Coordinator, says watching all athletes perform has been a joy.
"But the highlight has been our student and alumni Olympians for their inspiring performances. It's just amazing for two students to come away with golds. But we're so proud of all of them – they have competed against the best in the world. It's been a culmination of years of incredible sacrifice and hard work.
"To see the way in which students Theresa, Kanah and Michael, as well as Dylan Schmidt and all the other alumni performed, and presented themselves as people on sport's biggest stage, has been a privilege and joy to watch."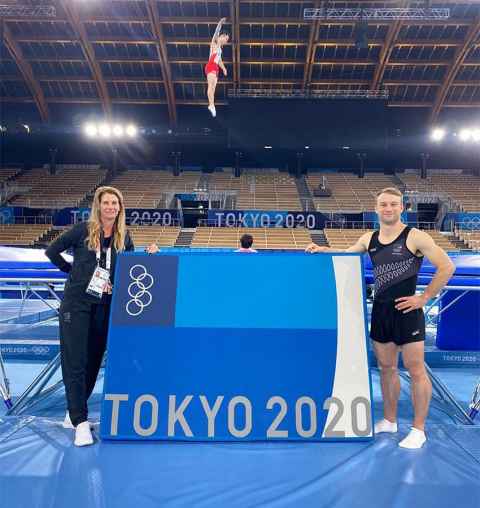 Being welcomed back into the village by the team, and just feeling everyone's pride for me was incredible.
Dylan (BCom 2020) was one of six University of Auckland alumni to perform at Tokyo. The trampolinist was at his second Olympics and was stoked to win the bronze.
"I was 19 in Rio and I'm now 24 so hard work and good preparation along with more experience was the biggest difference leading to me getting on the podium."
He says his best memory, apart from winning, involved the whole New Zealand team.
"Being welcomed back into the village by the team, and just feeling everyone's pride for me was incredible."
The University of Auckland had five other alumni competing in Tokyo. Kayaker Teneale Hatton (Bachelor of Commercial Law) made the B Final in the K2 500 and came 4th in the K4 500 A final (racing in a crew with kayaking star Lisa Carrington).
Our hockey representatives were Black Sticks captain and most-capped player, Stacey Michelsen (LLB), who competed in her third Olympics, and teammate Tarryn Davey (BPharm). The team made the quarter finals but went down to World No. 1 side The Netherlands.
Andrea Anacan (Bachelor of Business) made history by being the first New Zealander to compete in karate at the Olympics but did not advance in the kata.
Golfer Ryan Fox (BA, psychology) didn't make the cut but said it was an honour to be part of the New Zealand team.
And two alumni played a hand in the epic performances of champion kayaker Lisa Carrington. Dr Adam Storey (former staff) and Gordon Walker are both graduates of the University's Sport and Exercise Science programme. Adam is the lead strength and conditioning coach for Canoe Racing NZ (CRNZ). Gordon is CRNZ's technical director, who earlier this year was named Coach of the Decade at the Halberg Awards. Well done to them for their part in working with the triple-gold medallist.
* The Paralympics begin on 24 August in Tokyo and Auckland has one student Paralympian competing. Anna Steven, who is doing a Bachelor of Science, is a track athlete looking to go well in the 100m and 200m in the T64 category.
Story Denise Montgomery
To learn more about the University's High Performance Support Programme for our elite athletes and performers, visit the High Performance Support Programme website.
The programme recognises that pursuing both academic and performance excellence is challenging. Professional support through the Student Health and Counselling Service and specific performance psychology and well-being education sessions ensure holistic support of each student-performer.