Unlocking wearable tech for healthy living
Data from wearable devices could be put to good use, not only in preventative healthcare but also for managing chronic conditions.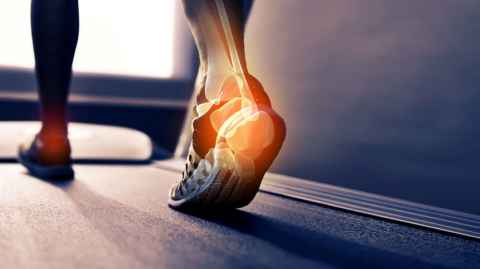 Wearable devices could be at the forefront of a health revolution that enables the medical profession to monitor an individual's health in real time, to promote healthy behaviours that prevent chronic health conditions.
The fact that only seven percent of 5–17-year-olds meet Ministry of Health guidelines of at least one hour of moderate to vigorous activity per day, indicates a looming health crisis and it's something that Faculty of Science researchers are hoping to mitigate with projects that shift the focus from treating sickness to maintaining wellness and good health.
"We all know exercise is good for us, but half of the world's population doesn't do enough of it," says Department of Exercise Sciences lecturer Dr Rebecca Meiring. "So, what we're now trying to do is look at combining behaviour change therapy with exercise to optimise changes in physical activity behaviours for the individual."

One step at a time
Rebecca's current work aims to encourage people living with chronic conditions such as osteoarthritis, the neurological movement disorder cervical dystonia and cardiovascular disease to improve their quality of life by moving more – whether it's getting out of a car, walking to the shops, or simply climbing a flight of stairs.
As part of their assessment, participants are fitted with a wearable device called an accelerometer which measures activity 24/7 over the course of one week, to provide an accurate picture of both activity and sedentary behaviour patterns over the course of a day.
Rather than suggest standardised exercises or perhaps going to the gym, Rebecca looks to target habitual activity behaviours like daily walking or housework using a behaviour change technique called 'motivational interviewing' which allows people to autonomously determine their readiness for change.
"Nobody's going to change a person's behaviour except themselves," says Rebecca. "It's got to be feasible for them, because if it's feasible then it's sustainable. And that's really important because we're talking about long-term change and long-term maintenance of healthy behaviours."
Because each accelerometer can gather as much as 40 gigabytes of data, Rebecca is collaborating with data scientists at Australia's La Trobe University Business School to analyse the information and develop algorithms that help easily visualise and predict energy expenditure in day-to-day-activities.

Tapping into a world of wearables
Whether the research outcomes can be scaled up for potential use by the medical profession remains to be seen, however another research project involving commercially available wearables could potentially lead to a more proactive – rather than reactive – approach to exercise and health.
Under the joint supervision of Rebecca and Associate Professor Fernando Beltrán from the University of Auckland Business School, PhD student Ruhi Bajaj is looking into whether the data generated by smart devices like Apple watches and Fitbits could help prevent chronic diseases.
"Can we do something with the humongous amount of data coming from these devices and tap into its potential?" asks Ruhi, who says that while many people wear the devices, their data is not being put to complete use.
 
We all know exercise is good for us, but half of the world's population doesn't do enough of it.
 
To share or not to share
Privacy is an obvious issue, so Ruhi has surveyed people about their willingness to use wearable devices and to share personal health information with health providers – something that many already do on social media platforms.
From Ruhi's perspective, the benefits of clinicians being able to monitor data continuously and remotely in real-time is obvious. "The clinicians themselves can proactively tell people that there is some health anomaly which is detected and why don't we take some measures to prevent things getting worse from this?"
The next phase of research is to enlist the support of the Ministry of Health and District Health Boards to access electronic health records to develop and evaluate a prototype application for remote health monitoring. "If both data sources are combined, and if that data is being presented to clinicians and monitored in real-time, then it is possible to detect a health anomaly," says Ruhi.
Wearable technology has already proven its worth in Rebecca's research where the accelerometers can be posted out to people in remote locations to avoid the trouble and expense of travelling into her Newmarket clinic. They also tend to be more accurate than questionnaires, as people tend to over-report their activity and under-report the amount of sedentary behaviour.
 
Relationships matter
Looking ahead, she believes that personal wearables could also support better clinical services by using remote behaviour monitoring to ensure adherence to exercise over the long term. "It offers us the opportunity to follow up with people who come to our clinic for exercise rehabilitation and check up on them occasionally and support them if physical activity or exercise drops off."
Ministry of Health guidelines recommend 150 minutes of moderate to vigorous exercise per week, but Rebecca says that goal doesn't suit everyone – especially those suffering from chronic conditions – and hopefully her findings will contribute to a modification of the guidelines to incorporate low intensity activities that reduce sedentary behaviour.
An important aspect underpinning Rebecca's research, and in striving to embed Treaty of Waitangi principles in her studies, is the formation of relationships with the participants in her research. These relationships form the basis of being able to understand behaviours, evoke an individual's idea of what change looks like for them, and challenge people to modify their activity.
"It's about using my expertise to learn more about my participants and to be able to get on a journey together and say, 'let's work together to see what's possible for you in changing your activity'."
Funding for the wearables research is derived primarily from internal University of Auckland grants, and the cervical dystonia project also has additional support from the Maurice and Phyllis Paykel Trust.
Given that many people don't take their health seriously, Ruhi hopes that her work will bring about a change in lifestyles. And for Rebecca, it's also about "the little victories" like a message from a participant that simply says, 'I need to watch how much time I spend in sedentary behaviour'.