Cecilia Tarrant: University's first female Chancellor a champion for women
Cecilia Tarrant, the University's new Chancellor, is already well-known for helping female students reach their goals.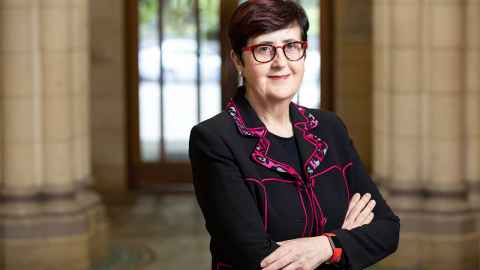 For a while, Cecilia Tarrant didn't think being female in a male-skewed industry was an issue. Then she hit the glass ceiling and "reverberated right off".

"As I became more senior in investment banking, gender inequality became more obvious," she says.

Since returning to New Zealand from London 11 years ago, Cecilia has focused on creating opportunities for women to succeed. Since 2010, she has been an executive-in-residence at the University's Business School, a role created to give students direct contact with business leaders. She also established the Women's Mentoring Programme (WMP), now in its 11th year. The WMP matches female students with women in the business community. Cecilia is involved in a similar programme in the Law School.

"It's about making sure when women leave this university they have some of those skills that can take years to acquire without mentorship."

She says women need financial backing as much as mentorship and she is a founder and investor in ArcAngels, which supports female entrepreneurs. So far, it has invested $2.2m in female-led start-ups and raised a $2.9m fund.

Cecilia's ascent to the top of a global investment banking firm belies humble beginnings. She grew up in Waitomo Caves Village – her father and aunt ran the general store and her mother sold souvenirs outside the glow-worm cave.
"My parents ran seven-day-a-week businesses, so that instilled a work ethic."

She attended the tiny Waitomo Caves Primary School, then boarded at St Dominic's College in Henderson, before doing a conjoint Arts/Law honours degree at the University of Auckland.

However, her career could have looked very different if it weren't for intervention from the then Dean of the Law School, Professor Jack Northey, when Cecilia decided not to do honours.

"He said, 'You should be doing honours and if you don't, you won't be able to study overseas.' I was very fortunate he took the time to do that."

Cecilia took his advice and what followed was a Master of Laws at UC Berkeley, a role as an associate at a San Francisco law firm, and then a career in investment banking in New York and London. She has a background in international finance and governance and was a managing director of Morgan Stanley.
As the chair of NZ Green Investment Finance, she also places high priority on demonstrating to the market that low-emission and green investments are commercially viable. 
Going back into lockdown in August, I felt we knew how to do this, but Delta shifted the goalposts. So, we need to deal with immediate challenges, but still keep planning for the future.
In June, Cecilia became the University's first female Chancellor. She was already a familiar face, having been trustee of both the US and UK Friends of the University, and on the University Foundation. She has been a member of Council since 2017 and the Pro-Chancellor since 2019.

She says this is an exciting yet critical time.

"Covid has caused a lot of resets and the role of the University in the community and wider society is of particular importance during uncertainty. Going back into lockdown in August, I felt we knew how to do this, but Delta shifted the goalposts. So, we need to deal with immediate challenges, but still keep planning for the future."

The same sentiment applies to her life.

"I exercise better if I have a goal. My goal is to walk the Auckland Half Marathon. I've been using that to motivate me to walk every day."

The priorities of the University's new Strategic Plan, Taumata Teitei, resonate strongly with her.
She says local iwi Ngāti Whātua Orākei's gift of the name Waipapa Taumata Rau, to replace the previous Māori name for the University, was a special and significant moment. 
"I'm keen to see improved cultural competency from the University Council, because we need to lead from the top," says Cecilia, who has been learning te reo Māori for several years.

"We also need to strengthen our networks and think carefully about how our curriculum will meet the future needs of our students."
Story by Danelle Clayton