BA student Joyce Wang wins national Japanese language speech contest
Congratulations to Joyce Wang, who won the Tertiary Japanese Language Speech Contest 2021.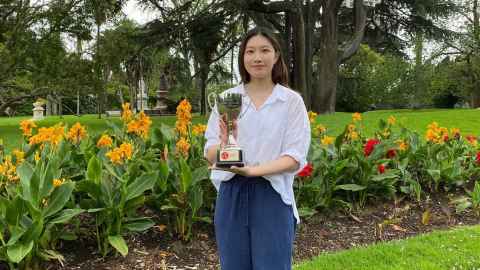 Joyce Wang, who is majoring in Japanese and Linguistics, won the 8th Tertiary Japanese Language Speech Contest which was organised by Japanese Studies Aotearoa New Zealand (JSANZ) and sponsored by the Japanese Chamber of Commerce of Auckland Inc (Nisui-Kai) and the Japan Foundation.
Nine students from five tertiary institutions competed in the event this year. Entries to the contest were video recorded in front of an audience, followed by spontaneous questions and answers in Japanese.
Joyce's speech was entitled 'New Zealand society and racism'. She talked about racism in New Zealand society to raise awareness to this issue, and called for people to recognise discriminatory acts and to protect victims. To create a more equal society that does not judge people by their appearance or race, she encouraged the audience to raise their voices when they witness discrimination.
The awards ceremony was held on 16 November on Zoom with Professor Martin East, distinguished guests from local businesses and government organizations, prize winners and their teachers and friends, as well as staff from the University's Japanese programme in attendance.
Due to travel restrictions, instead of a return ticket to Japan which had been the first prize for this contest in past years, Joyce won a domestic-travel voucher worth $1000. She is thinking of going to Queenstown as she has always wanted to try sky diving and paragliding. After graduating from the University, she wishes to become a teacher of Japanese and to teach Japanese language and culture at schools in New Zealand.