Linda Tyler unpacks a Serene Timoteo artwork
The University Art Collection has more than 1,700 items across five campuses. Linda Tyler showcases another of her favourite pieces.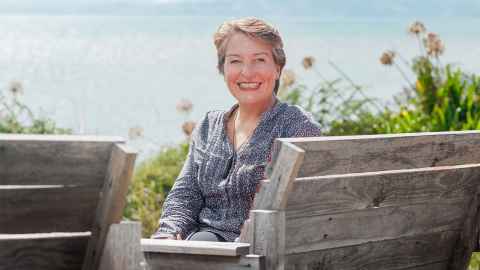 As climate change begins to bite, violent storms frequently bring down power lines to the area in rural South Auckland where I live. That can mean days without electricity for water pumps and fridges and no internet connection.
When the power is out, I drive to the conveniently located University of Auckland's South Auckland Campus Te Papa Ako o Tai Tonga in Manukau. It has become a haven for me, and I am always the only Palagi there.

This campus has some of the University's best art on display, including works by Art History and Fine Arts graduate Ane Tonga (now Curator, Pacific at Auckland Art Gallery Toi o Tāmaki) and my favourite artwork, Serene Timoteo's When you've grown up in Auckland your fine mats look like this (2014), embroidery on plastic matting, which was acquired for the University collection in 2015.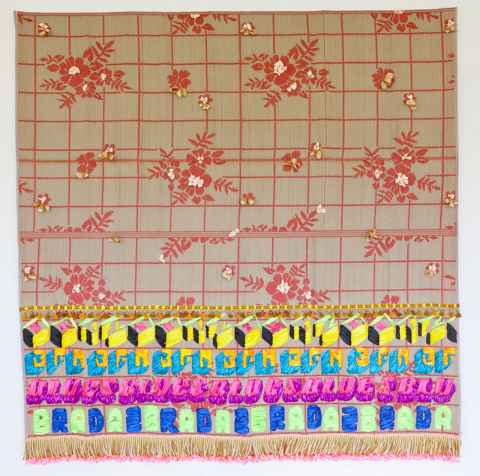 That was the year that Serene was completing her BA in Pacific Studies in Anthropology and Sociology, having graduated with a Bachelor of Fine Arts from Elam in 2014.
In 2015, she exhibited one of her mats at Window, a contemporary art exhibition space in the foyer of the University's General Library, a black plastic mat with white diamond patterns from the store Look Sharp, over which she had embroidered backward-slanting bold capital letters in yellow satin ribbon with magenta and chartreuse shadows, graffiti style. "You Weren't Built to Be Build Ups" it read, with its top and bottom finished with baby pink loops. In urban slang, a build up is when you do something you said you'd never do, disappointing others. That work was accompanied by a text that read:

You weren't built to give up
You weren't built to not finish the race
You weren't built to not get back up
You weren't built to cut corners
You weren't built to accept failure
You weren't built to stay down

Her message here was encouragement to other Pacific students. As she wrote at the time, "You weren't built to be build ups, but you were built for a purpose and you were built to last."
The South Auckland Campus Te Papa Ako o Tai Tonga in Manukau has some of the University's best art on display.
When you've grown up in Auckland your fine mats look like this is a jokey acknowledgement that her materials aren't the pandanus of 'ie tōga (Samoan fine mats) and koloa (Tongan fine mats).
Here she has found a brown plastic mat that looks like the fine mats but isn't, perhaps pointing to how Pacific diaspora might feel when estranged from their culture. With a nod to tivaevae (Cook Islands embroidery) where flowers are appliquéd onto surfaces, she has applied her satin ribbons to form alternating green and blue letters spelling out BRADA, slang for brother or friend.
Above that row, BFN in yellow with blue shadows (pronounced beef'n) stands for Big for Nothing, meaning someone who is physically large, but not much use on the sports field, or else is all talk and no action.
Serene is now Serene Hodgman, married to Blues prop Alex Hodgman, and has trained as a teacher.
She continues to create art, exhibiting at Masterworks in Auckland. In her 2021 exhibition of the Pua Series, the plastic mats were still in use, but the words had gone, replaced with a riot of colourful flowers, repeating across the whole surface in symmetrical patterns.