Perseverance pays off for eco-housing community
Architecture alumna Robin Allison's long road to develop a 32-home eco-community in Auckland has been documented in a book.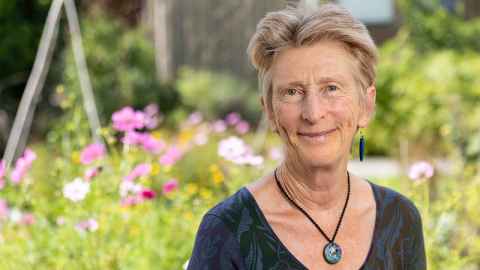 It is one thing to dream about leading a good and sustainable community life; another thing altogether to deliver on that vision.

So how, asks Robin Allison, did a group of "ordinary, extraordinary people" develop a 32-home eco-neighbourhood from a compelling idea?

The answer lies in her book Cohousing for Life, which, as the subtitle indicates, is a practical and personal story of Earthsong Eco-Neighbourhood – a Ranui, west Auckland, development that combines sustainable design with cooperative community.

This is Robin's story, forged in 1995 and finalised 13 years later. It is from the 1.2-hectare site that she is talking today. The village is fully occupied and flourishing, the sun is shining and the trees are in fruit. Her older son, his wife and their two children live just across the back hedge.
"It's the perfect reward for all those years of effort," she says.

Earthsong is more than her home: it is intrinsic to who she is. The University of Auckland alumna says she certainly didn't follow the standard career path of the architectural degree she completed in 1986, "but my degree was pivotal in the success of Earthsong".
We weren't exceptional people. We had inner conviction – and we persevered.
The book is as much a practical how-to as it is a deeply personal memoir, with elements of peril and jeopardy befitting a novel. Earthsong was never easy: money worries, challenging human dynamics, bureaucratic nightmares, construction challenges, legal tussles, builders going bust.

And then there was the personal toll in the form of family crises, relationship break-ups and repeated emotional strains that, on occasions, took her to the brink.

But Robin's resolve remained throughout.

"It always felt like what I was meant to be doing," she says. "Even at the darkest moments, it was like: 'there's no bloody way I'm going to let this go'. I wasn't going to be beaten."

And nor was she. Cohousing for Life meticulously documents the demands and requirements of embarking on such a development and shines a torch for others thinking about sustainable housing. It's also unflinchingly truthful about the pitfalls of such projects.

Earthsong was built before Auckland became a supercity – when Ranui was in eco-friendly Waitākere City with a supportive council, headed by then-mayor Sir Bob Harvey (who describes the book as a "triumph").

Could it be done now?

"I think it is a very difficult time to be doing any development. We chose Waitākere City because we felt they were, at least in principle, very supportive."
Even at the darkest moments, it was like: 'there's no bloody way I'm going to let this go'. I wasn't going to be beaten.
These days, she suggests, if another group wanted to embark on a similar project, high-density co-housing could be the answer "or you could go even further out than we did".

Robin, now 67, gives particular credit to two of her lecturers at the School of Architecture, Graham Stevens and Graeme Robertson. Their efforts nurtured Robin's true leanings: Graham Stevens as the only lecturer teaching about sustainability at the time and Graeme Robertson who very much encouraged her back into that focus.

People who move into cohousing communities often find they are happier living closer to their neighbours than they expected to be, because attention has been paid to both privacy and interaction, Robin notes in her book.

"Absolutely. Many feel like they've come home for the first time. We have diverse inter-generational age groups, and that's what makes it so rich and so helpful."

Six years ago, she realised she finally had the time to write her book.

"When I started approaching publishers, the message was, 'this is two books: a memoir and a how-to. I came back with: 'it's both'."

The story, she says, "is the juice that gives energy to the 'how'.

"You could read the book and think, 'I don't have what it takes, because these were exceptional people. But we weren't exceptional people. We had inner conviction – and we persevered."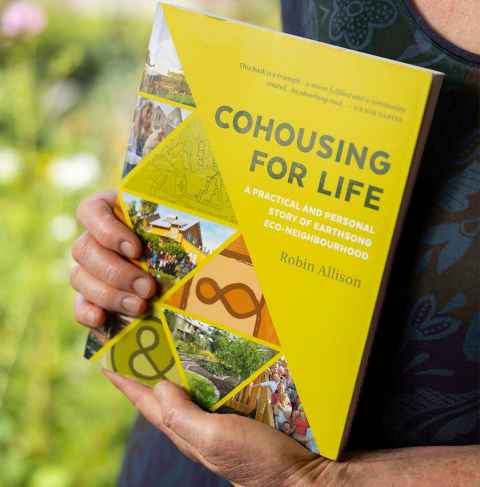 Story by Geraldine Johns
Cohousing for Life can be purchased through Robin's website at robinallison.co.nz
This article first appeared in Ingenio Autumn 2022.