Tautua and Alofa: Farewell Aunty Judy
After 21 years of tautua, the University of Auckland has farewelled 'Aunty' Judy McFall-McCaffery.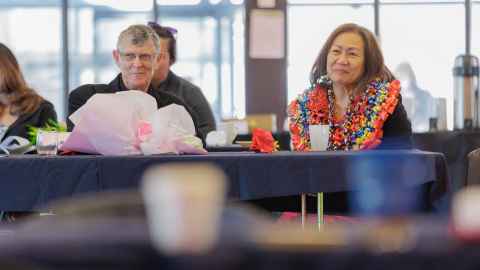 'Aunty Judy', as she is lovingly known to Pacific staff and students, began her career at the University of Auckland in 2001 as a weekend library assistant at the Sylvia Ashton Warner library on the Epsom Campus.
Spanning two decades, her career has morphed many times over and in May she left her roles as both the Pacific Academic Engagement Adviser in Library and Learning Services and Academic Engagement Adviser in the Faculty of Education and Social Work, with a long-lasting legacy.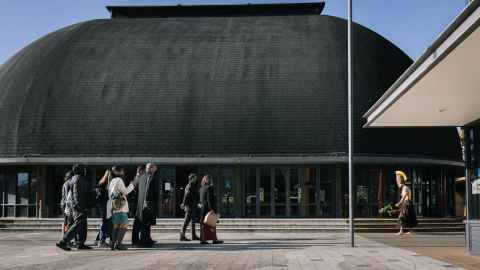 This legacy not only extends internally across the University but externally through her mahi in the Library and Information Association of New Zealand (LIANZA). Judy has been an integral part of ensuring Pacific representation within LIANZA and across all of her mahi throughout her career.
On Friday 13 May, after a week of farewells across the University, Aunty Judy was celebrated by Pacific staff and students at the Fale Pasifika. The ceremony began with a traditional Cook Island Turou led by Liam Koka'ua and was hosted by Samoan language lecturer in Pacific Studies, Lemoa Henry Fesulua'i.
The celebration included guests from her own aiga, Library and Learning Services, LIANZA members, past and current students and staff. The stories shared were that of alofa and respect for a much loved member of the University's Pacific community. Woven in between were tales of how excellent her Pacific fashion sense was, which comes as no surprise as Judy is a former Pacific pageant queen.
In attendance was the University of Auckland's former Pro Vice-Chancellor Pacific, and now Vice-Chancellor of AUT, Toeolesulusulu Damon Salesa, who shared the sentiments of many that Aunty Judy will always be a woman of mana. Her commitment to the University's collective Pacific success is a testament to her love for the Pacific and its peoples.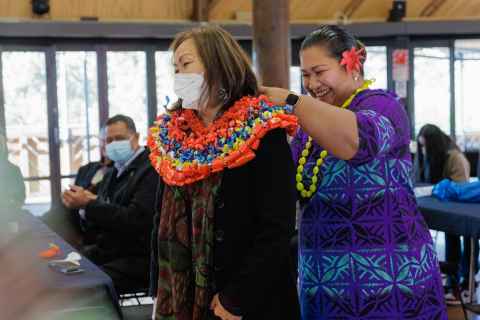 The University's new Pro Vice-Chancellor Pacific, Associate Professor Jemaima Tiatia, also spoke about Aunty Judy's commitment to Pacific staff and students. She said she always went out of her way to teach in the most organic, relatable ways and shared her time selflessly in being a guiding light for many who asked for help.
Perhaps the most valuable talanoa of the day came from Aunty Judy's daughter Ana and her daughter-in-law, reflecting on how her work often found its way back to her home and how irrespective of the long hours and time away she would always find time to check in and love her aiga.
Highlighting one of the most important lessons she taught in her time at the University, when all is said and done, it is your tautua and alofa that makes the most difference to others.
Fa'afetai tele lava Aunty Judy for the many years of tautua and alofa you have shared with all our staff and students at Waipapa Taumata Rau the University of Auckland.