Poetry is the best medicine
Visitors to two central Auckland hospitals will be able to read the work of some of Aotearoa's most prominent poets from this August until October.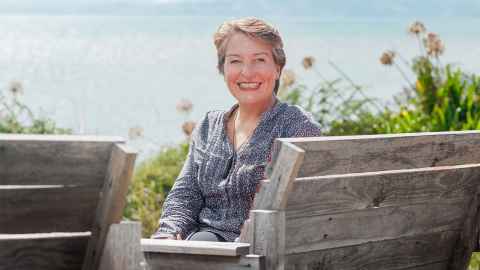 The first of its kind nationally, Poetry in Place sees 24 poems installed on posters across Auckland City Hospital and Starship Children's Hospital, as well as at Greenlane Clinical Centre.
The initiative is a collaboration between Ara Manawa (part of Te Whatu Ora Te Toka Tumai Auckland; formerly ADHB) and Waipapa Taumata Rau University of Auckland.
As well as showcasing a range of high quality creative work, it hopes to offer a chance for patients, whānau and staff to take a moment and find some peace and inspiration in the words, says the University's Associate Professor Linda Tyler, an art historian who has been instrumental in setting up the programme.
"For patients and visitors, moving through hospital spaces can often be a stressful experience. These posters offer an opportunity to take a breath and be transported to another place, to shift your thinking and escape, riding the words of some of Aotearoa's finest poets," she says.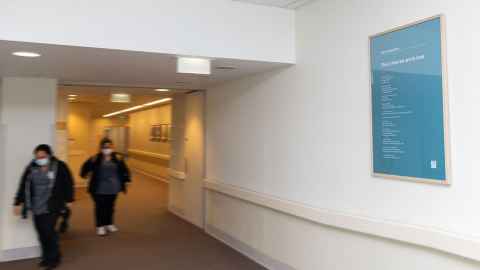 Dr Margaret Wilsher, chief medical officer for Te Whatu Ora Te Toka Tumai Auckland, is delighted the hospital is collaborating with the University on this innovative project; and as a sponsor, is not only really pleased with how the poetry looks on the hospital walls, but how many staff members have taken the time to comment positively.
"These poems invite you to stop, think and reflect; a quiet moment for oneself in a busy day. We hope our patients and their whānau enjoy them as much as we do," she says.
Each poster has a QR code so readers can learn more about the poem and the poet on the website.
The exhibition has been timed to coincide with National Poetry Day on 26 August and hopes to provide a model for other hospitals around the country.
Featured poets from the University's Faculty of Arts staff include former Poet Laureate Professor Selina Tusitala Marsh and Associate Professor Paula Morris, who leads the faculty's creative writing programme and chose the poems for this installation.
Also on display is the work of University alumni Courtney Sina Meredith, Wen Juenn Lee, Renee Liang and Cybella Mafitt.
The installation will be on view until October 2022 and is sponsored by the Auckland Hospitals Research and Endowment Fund (AHREF), previously A+ Trust.