Neurodiversity no barrier to double graduate William
William Muir overcame his writing obstacles to complete two degrees and land a good job.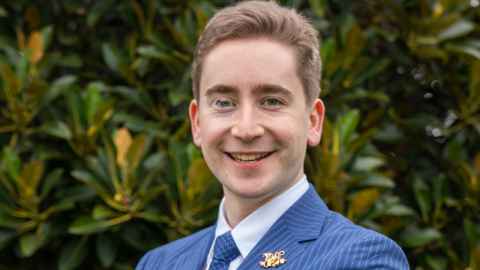 If you put William Muir in an exam, he'd struggle to write eight words, but earlier this year he graduated with two degrees and now has a job at professional services firm Deloitte.

William has degrees in Arts and Commerce, despite having dysgraphia, a neurological learning difficulty that makes handwriting almost impossible. It's a relatively common impairment that often goes hand-in-hand with dyslexia and affects a person's ability to physically write as well as spell.

Plenty of well-known successful people have lived with it, including Albert Einstein, Louis Pasteur and actor Daniel Radcliffe (Harry Potter).

Thankfully, things are made easier by technology – typing doesn't create the same kind of challenge for William as handwriting.

"I started using a computer when I was quite young and that helped, but it didn't solve everything. It wasn't until year 13 that I started to do quite well," he says.

When he arrived at the University of Auckland, he started to realise his academic potential, with support from Student Disability Services (SDS).

As an example, SDS organised a reader-writer for tests, which was critical in subjects requiring written calculations, such as finance.

Disability adviser Lynda Reilly and the SDS team also worked with lecturers to develop strategies to accommodate his dysgraphia.

William, who moved to Auckland from Christchurch for tertiary study, was grateful.
"When you have the right support structures in place, impediments don't need to stop you."

He also appreciated having someone who was familiar with his specific challenges, as well as the continuity of the relationship.

"It was important to have someone with me throughout my time at university, even when my lecturers changed," says William.

William originally came to Auckland to study for a Bachelor of Music. However, unforeseen circumstances meant he had to change direction after 18 months. Interested in finance and maths, he opted for the Bachelor of Commerce in finance and commercial law while also completing a Bachelor of Arts majoring in music.
"I didn't want to waste the music papers I'd done in the first year-and-a-half of study," he says.
It was important to have someone with me throughout my time at university, even when my lecturers changed.
In 2020, Covid-19 created particular difficulties and William found studying remotely online isolating. Being a communicator who also enjoys public speaking, he says he learns best through talking to lecturers.

"If I talk through a topic with someone, I learn so much more than if I sit there and listen to a lecture, even though it's the same stuff. Not having that chance made the lockdown so much harder for me."

While it was challenging, he managed online exams without a reader-writer, but says some grades were below his usual levels.

However, William did get through a rigorous series of tests and interviews to land a graduate role at Deloitte in customer strategy and applied design. Thanks to the digital nature of business there, his dysgraphia is no longer an issue, and he won't need further assistance.

"What I'd say to students with any kind of learning disability is that it's important to talk it through with those around you as there's likely to be support you may not realise is available."

By Jodi Yeats
• October is Dyslexia Awareness Month
• In July, the University of Auckland announced its Disability Action Plan, 2022-2025. Read the plan

• Support is available for students with disabilities at the University of Auckland. Register with Student Disability Services to access support. Email: disability@auckland.ac.nz
This article first appeared in the September 2022 edition of UniNews.