Psychology third-year student, Jessie Houston, aspires to a career in healthcare, to combine her interests in psychology with helping people.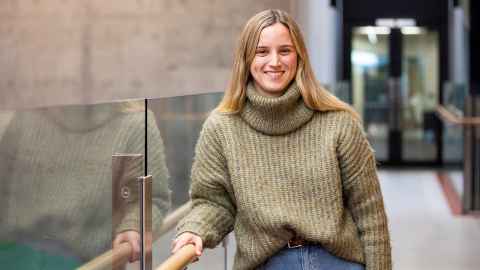 Bachelor of science student Jessie Houston chose to major in Psychology as science has always been her passion and the subject she enjoyed most in secondary school.
"Choosing my major was hard but I have always had an interest in psychology and wanted this to be the main focus of my degree," says Jessie. "I am thoroughly enjoying my third year of studying psychology. I've found these third year papers more specific with what they look into and this allows me to choose aspects of psychology I am passionate about to study."
Jessie has thoroughly enjoyed her assignments and projects so far. "In PSYCH 108 we were required to write an essay about an activity or environment that allows us to flourish as an individual. I really enjoyed this assignment and put a lot of time and effort into it, so I received a high grade for it. I also love the selection of PSYCH papers you are able to choose from in stage 2 and 3 of the course."
Being of Tongan and NZ European descent, Jessie had the opportunity in her second year to be part of the Leadership Through Learning programme for Māori and Pacific students. The 12-week leadership and development programme spans across all levels of studies, faculties and disciplines in the University and is delivered by Māori and Pacific student leaders.
I found that I loved to learn about why people do the things they do and how we can use this knowledge to understand people's everyday behaviours.
"The programme allowed me to meet some amazing people, as well as teaching me many leadership skills. It also taught me about the cultures that make up the indigenous community at the University, which I now feel part of," says Jessie.
"The amazing coordinators and tutors in this programme become your whānau at the University, creating a space that brings a sense of belonging and aroha. I would highly recommend it to anyone who has the opportunity to be a part of it."
This year, the best part of Jessie's studies has been returning back to campus as the pandemic restrictions loosened, enabling her to meet new people in lab classes and lectures. She is also an active member of the Auckland University Psychology Students Association (AUPSA).
"The team is amazing and it's an amazing opportunity to be able to organise events for other students as well." She adds how important it is to meet new people, especially in your first year at uni. "You will make some awesome friends that you will be able to take courses with throughout your degree."
Thinking about her career direction, Jessie is interested in the health side of psychology, considering programme pathways to qualify as a clinical psychologist or a psychiatrist.
"I am interested in pursuing a career in the healthcare system, because I have a drive to help people for my job. I have always been an empathetic and caring person and I think that a job in health is a good way to apply these traits, as well as incorporating psychology into this too," she says.
"I found that I loved to learn about why people do the things they do and how we can use this knowledge to understand people's everyday behaviours."