Probabilistic forecasting in the renewable energy industry
Clarkson Medal winner and Applied Mathematics and Statistics alumnus, Henry Chen, has already had many successes in his young career.
Henry Chen chose to study applied mathematics because of its creative yet rigorous nature. "Studying applied mathematics has sharpened my analytical skills, and my Honours year assisted immensely with my soft skills. Presenting my research at conferences transfers over nicely to communicating with clients in industry," he reflects.
"I was privileged enough to have been supported by the University of Auckland Postgraduate Honours scholarship which covered the tuition fees with a healthy stipend on top. The scholarships I have received have helped me immensely as without them, I may not have enrolled and pursued a degree at university."
Henry graduated in 2020 with a First Class Honours in Applied Mathematics and now works as a Senior Forecasting Analyst at TESLA Asia Pacific in Auckland.
In 2021, Henry was named the global winner in the Global Undergraduate Awards for Mathematics and Physics and received the Clarkson Medal, often referred to as the 'Junior Nobel Prize'. He topped more than 2400 submissions across 292 tertiary institutions to receive the accolade for his research on mathematical billiards.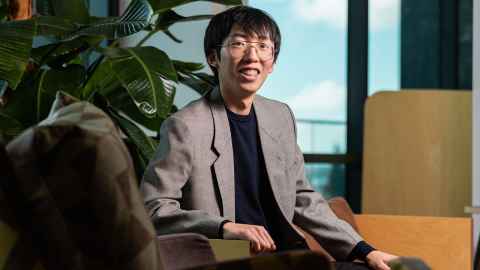 How did you feel when you won the Clarkson Medal?
"I was genuinely so surprised to have won the Clarkson Medal, especially since this is only the second time a University of Auckland student has been a Global Winner (Harry She won for Computer Science in 2019).
"I feel ecstatic and honoured to have my research recognised on the world stage. I am grateful to have had such an amazing supervisor in Professor Hinke Osinga and I hope this inspires many more University of Auckland students to produce quality research and be recognised as global winners in their respective fields."
Are you enjoying your role at TESLA Asia Pacific so far?
"I'm loving it. Work is very flexible and my boss, manager and colleagues are a pleasure to be around. I get opportunities to collaborate with people from our UK and US offices as well. Now that we are on the other side of the pandemic, I hope to visit these offices in person soon."
What does your role as a Forecasting Analyst involve?
"I maintain electricity load models for New Zealand, Australia, Japan, Philippines, Singapore, and India and create custom demand forecasts for generators and retailers. I am also involved in the Trading Risk Group of the Innovation Program, where we are deploying and assessing a probabilistic forecast."
The scholarships I have received have helped me immensely as without them, I may not have enrolled and pursued a degree at university."
Can you tell us about a recent project you've worked on?
"I currently manage the Accuracy Metrics subgroup of the Trading Risk Innovation Team. We work with the US office to assess how the probabilistic forecasts perform with different weather vendors. Probabilistic forecasts will be important with the increased uptake in renewable energy generation.
"Cloud cover has a massive impact on the amount of electricity solar panels will generate. One minute the sky will be clear and blue so the electricity load will be low (since everyone is using their own solar energy). Clouds may come over the next minute and electricity load will skyrocket as everyone will need to use electricity from the grid. We want to provide accurate forecasts with probability percentiles to account for volatility in the electricity system."
What has been the highlight of your career up to this point?
"In 2021, we had a forecasting competition across all three offices. The challenge was to create the best forecast for the UK, where embedded solar was proving to be a challenge. My colleague, Asaad and I, created a smart blend which ended up winning the competition!"
Where do you see your career heading? 
"I can see myself thriving in the energy industry with the onset of increasing renewable energy generation and challenges presented by climate change."
What kind of impact do you hope your work will have?
"While electricity load may sound abstract and niche, it affects every one of us. If the forecast is too low, generators will not be prepared to generate enough electricity and there will be blackouts (recall 9 August 2021). It is also important for the forecast to be reliable, as even if the forecast is high, the generators may not trust it and not generate electricity to save money. I hope that the work I do at TESLA Asia Pacific prevents blackouts from happening to any of us."
Finally, tell us something about yourself that we can't learn by Googling you!
"I'm a Hufflepuff."