Unclear endgame for the war in Ukraine
Feature: The war in Ukraine is evolving as a dangerous trigger point for widespread global conflict. Anthony Doesburg talks to three University of Auckland experts who analyse the issues.
If Covid-19 thrust epidemiologists into the media spotlight, the Ukraine conflict is doing the same for academic specialists in Eastern Europe and international relations.

A number of University of Auckland staff have taken to print, news websites and webinars with analyses of the war since Russian forces entered Ukraine on 24 February 2022.

Among them is Dean of Arts Robert Greenberg, a linguistics professor specialising in Slavic languages and a frequent visitor to Russia and Ukraine. Soon after the invasion, he wrote on Newsroom that the region's past suggested there would be no winners from the conflict. Eight months on, that's still the case: Russian forces appeared to have the upper hand initially, but more recently the Ukrainians recaptured a large portion of Kharkiv province in the northeast.

If it is hard to believe in modern times that one European state would invade another, Robert points out that much of Eastern Europe is plagued by historical territorial tensions.

"Some of these areas have been contested by bigger powers for years, for centuries. A good example is Poland, which was partitioned three times at the end of the 18th century, and so was what is now Ukraine. Poland had been a bona fide state in medieval times and it totally disappeared off the map in the 19th century."

Proving that history repeats itself, expansionist Russia had consumed parts of Poland and installed Nicholas I as tsar. The country's fate was a key theme of Polish composer Frédéric Chopin, Robert says.

Contemporary Ukraine, led by President Volodymyr Zelensky, has existed as an independent country only since 1991 and the collapse of the Soviet Union.

"It's not a longstanding country such as France or England, therefore I think it is accurate to say that this conflict is a continuation of the contestation of that territory," says Robert.

"In that part of the world, history is front and centre in people's minds. We may think of World War II as a long time ago, but people in Eastern Europe have long memories. They don't forget what happened 50, 100 or 200 years ago. They don't quite move on.

"These are Slavic peoples and, for them, language is a big marker of identity. The modern Ukrainian people are based on a common language and a common sense of nationhood. However, in the Donetsk and Luhansk parts of eastern Ukraine, the main language of everyday life has been Russian.

"These are Russian-speaking Ukrainians and that adds to the contestedness. They don't quite fit even the Slavic definition of being clearly of that Ukrainian nation because they're Russian-speaking."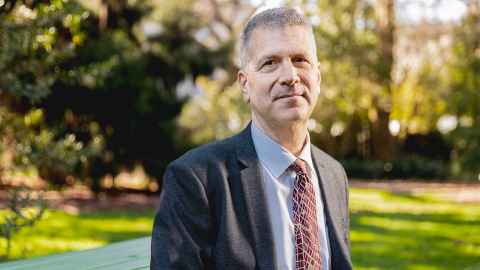 Those of us who abhor violence and war are sad to see the loss of life and you begin to ask what is the endgame.
That notwithstanding, according to international norms, the land within Ukraine's 1991 borders is the country's indisputable sovereign territory.

"But Russia started violating that from 2014 on," Robert says. "Those of us who abhor violence and war are sad to see the loss of life and you begin to ask what is the endgame.

"I don't think surrender is likely because Ukraine's heels are dug in too deeply. What is needed is some kind of honest broker with the clout and ability to bring the two sides together to talk about how to get out of this."

Part-time Faculty of Arts lecturer Associate Professor Gordon Morrell also works for Nipissing University, Canada, and is a specialist in Russian history. He says 50 years from now, we'll have a clearer understanding of the conflict begun by Russian President Vladimir Putin.

"My historian reflexes recognise that although this is a new situation, it's not entirely so and some of these tensions and grievances go very deep and long. In a way, the conflict is telling us that imagining the world is going to stay on a path of progress as defined by the West is probably just false confidence.

"From Putin's generation's point of view, the weakness of former president Boris Yeltsin's regime early in the post-Soviet era was a betrayal of Russia. It's not hard to make a historical case that the Russians see eastern Ukraine at least as part of the Russian empire – they're not embarrassed about having an empire."

Gordon thinks Putin wants to leave a legacy that says, "I helped rebuild Russian power and rescue people who were on the wrong side of the Russian border."

What will come out in the wash of history is the conversations that took place between Ukraine and Russia in the two years before the war, and whether Russia indicated it sought a guarantee of Ukrainian neutrality and recognition of Russia's 2014 gains, as well as a small territorial adjustment in the east.

"If that's part of what was on the table, and Ukraine said no, those are elements in understanding the decision to go to war. But we're not going to know that for some time. Eventually, 60 years from now, historians will see what was at work here."

Although the Canadian national concedes the role of historians in the here and now is not obvious, studying archives of the powerful talking to one another has shown him the advice they received that took history into account tended to be the best advice in decision-making.

"The 50-year view turns out to be true more often than we like to think. But that doesn't help US President Joe Biden or other leaders make decisions today. Historians aren't very useful in that sense, but that's not their job."

Disquietingly, he thinks Putin looks on eastern Ukraine similarly to how China sees Taiwan, as a lost or renegade province that needs to be part of the whole. "It's not identical, but it's similar in some ways.

"Not all historians share my perspective, but that's the nature of the beast, and never would I want the hot seat of making decisions in these sorts of situations. What's happening in Ukraine is a tragedy, there's no other way around it."
Imagining the world is going to stay on a path of progress as defined by the West is probably just false confidence.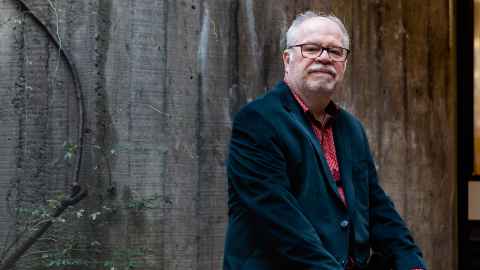 If historians have the luxury of time in analysing conflict's causes and effects, those trying to broker a just peace are up against the unfortunate reality that truth is war's first casualty. But already, says Dr Anna Hood, senior lecturer in the Faculty of Law and an international law specialist, attempts are being made to hold parties to the conflict to account.

Typically, investigations and prosecutions take years, if not decades, says Anna who, with Gordon, took part in a Europe Institute online discussion about the war earlier this year. She says Ukraine has begun taking war-crime prosecutions in its domestic courts. According to the BBC, a 21-year-old Russian tank commander has been given a life sentence for shooting a Ukrainian civilian.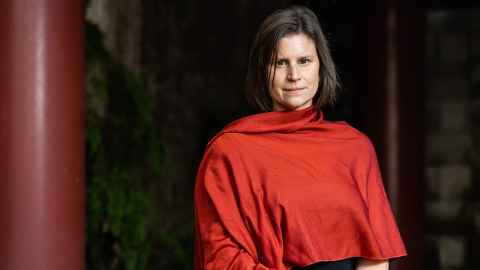 Prosecuting war crimes can be important ... to provide some level of redress to victims and survivors.
The threat of being tried can seem an ineffective disincentive to waging war, but that's not the whole aim, Anna says.

"Prosecuting war crimes can be important for holding people to account for their actions and to provide some level of redress for victims and survivors. However, if we are concerned about how we end wars and prevent future wars, it's important to have regard for other matters, as international criminal law has only a limited deterrent effect.

"In particular, there is a lot of thinking to be done about the inequities and power imbalances that exist within the international system. If we were able to rectify some of them, it would go a long way to enhancing how the international system functions."


The New Zealand Journal of Research on Europe is calling for papers for its special issue Contextualising the Russian Invasion of Ukraine. Deadline for submissions is 15 February 2023. Read the guidelines (PDF).
This story is from the University of Auckland's alumni and friends publication Ingenio, spring 2022 issue. 
To republish in part or full, contact ingenio@auckland.ac.nz