Charging on with electric helicopter to deliver transplant organs
Glen Dromgoole is making good use of his masters in mechanical engineering, reaching new heights with his electric chopper in the US.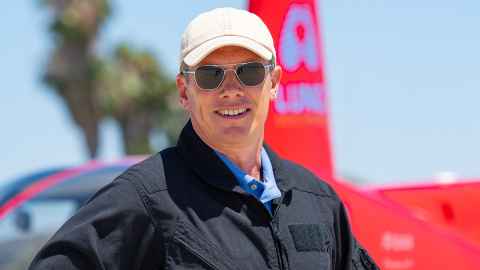 When it comes to Kiwi ingenuity, developing the world's first electric-powered helicopter for the delivery of life-saving human transplant organs has to be right up there.

"We looked at the power requirements for the helicopter and the performance of the off-the-shelf technology and realised we might be able to achieve a half-hour flight – and that was the starting point," says alumnus Glen Dromgoole.

With a masters in mechanical engineering (1996), Glen headed to the US and secured his first job, working with Kestrel Aviation to develop a light aircraft that drew on his experience at the University's Centre for Advanced Composite Materials.
"That was the stepping stone, doing the masters in advanced composites opened up opportunities and got me into aviation."

After spending more than a decade involved in the development of commercial and military aircraft for the likes of Gulfstream Aerospace, Northrop Grumman and Boeing, Glen founded Tier 1 Engineering – a consulting business based in California that led to the electric helicopter project. His client is US entrepreneur Martine Rothblatt, who wanted a 'green helicopter' to deliver genetically modified pig organs being developed for human transplants in the US by her United Therapeutics biotech company.

After their first meeting in 2015, Glen selected a Robinson R44 helicopter for the prototype and replaced the heavy Lycoming piston engine with an electric motor and batteries sourced from the automotive industry, "cobbling together components and building it on the bench".
It was really just cobbling together the components and building it on the bench.
Despite predictions in the aviation community that it would take 50 years to develop an electric-powered helicopter because the batteries are too heavy, the first ground test took place within six months. The project has since chalked up four Guinness world records, including firsts in electric flight, farthest distance and longest duration.

Six years on, the third generation all-electric aircraft known as Bird 3 gained a crucial experimental airworthiness certificate in early 2022 to authorise its first test flight – lasting three minutes – with pilot Ric Webb and Martine at the controls.
"If there's a chance to go on a test flight or work with the engineers to understand where the project's heading, Martine's in the mix and fearless when it comes to challenges," says Glen.

The key challenge is having sufficient battery power to sustain the targeted one-hour flight.

"There's a compromise in terms of aircraft payload and range."

Glen is confident his team will achieve full certification by 2025, given improvements in lithium cell technology and building on an already certified helicopter. In spite of concerns in New Zealand over the Robinson's safety, he says flying in this country is different from the airspace in which his electric choppers will fly.
"New Zealand has difficult terrain and very challenging conditions. There's nothing wrong with the Robinson."

While billions of dollars are being invested by around 200 companies worldwide in the development of electric-powered vertical take-off and landing (eVTOL) aircraft (drones), Glen says they face a long road to certification compared with his modification of an existing aircraft.

"Realistically, most of them will not fly. The aviation standard, to ensure they don't interfere with other aircraft in flight or pose a hazard to people or property on the ground, is very high."

With around 7,500 in circulation, the R44 could be a lucrative market for retrofits. The Robinson Helicopter Company has "thanked us for the publicity," says Glen. "They see the potential to have an all-electric option on the R44."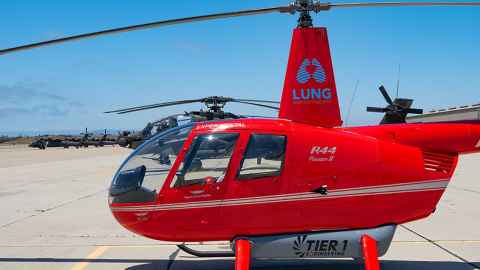 Doing the masters in advanced composites opened up opportunities and got me into aviation.
There's another Kiwi connection. The magniX electric motor that powers Bird 3 is made by a US company owned by expat Kiwi billionaire and alumnus Richard Chandler (MCom). Glen is also grateful for the early theoretical work performed by another Kiwi, Rob Grigson.
Glen is the son of former University of Auckland botanist and diver Frank Dromgoole, who highlighted degraded marine habitats caused by overfishing in the Hauraki Gulf in the 1960s. He is also related to late Auckland ferry owner Leo Dromgoole, who battled with unions and dabbled with revolutionary vessels such as hovercraft and hydrofoils.

"He was a bit of a pioneer in terms of marine transport. Maybe that's where I get some of my innovation from. It must be in the genes."

Story by Owen Poland
This story is from the University of Auckland's alumni and friends publication Ingenio, Spring 2022 issue. 
To republish in part or full, contact ingenio@auckland.ac.nz