Regulation investigation: law academic scores Marsden grant
Marsden Fast-Start grant winner Dr Edward Willis is diving into a research project that will examine regulation from a public law standpoint.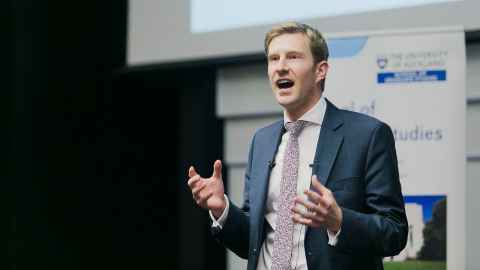 New ways of understanding and justifying modern regulatory practice are urgently needed, says Marsden Fast-Start grant winner Dr Edward Willis.
For the first time, Dr Willis' Marsden-funded research project, A Public Law Theory of Economic Regulation, will offer a complete account of regulation primarily in terms of legal principles, institutions, and processes.
It proposes that the branch of law that deals with the nature, purposes and limits of government power can address regulatory issues in ways appropriate to the broader public interests at stake.
Every day, governments regulate on behalf of their people for safer products, cheaper essential services, healthier environments and greater well-being. But the dominant economic understanding of regulation, says Willis, ignores many of these diverse benefits in favour of exclusively promoting market efficiency.
"My project offers an alternative account that recognises regulation as fundamentally legal in nature: regulation displaces the private law arrangements that sustain markets and instead imposes public law values and frameworks for the wider public good."
Willis' project will analyse the key elements of regulation — intervention (why regulate), institutions (who regulates), regulatory process (how regulation happens), substantive decision-making (what a specific regulation is), enforcement actions (how regulation is effective), and accountability mechanisms (how we get regulation right) — in public law terms for the first time.
Addressing regulatory theory and practice in New Zealand, Australia, the UK and the US from the 1980s until today, the project will offer a corrective to existing economic theories that will facilitate responsible policy guidance for future regulatory initiatives. It also defends the legal account of regulation in normative terms, says Willis, arguing that it is both appropriate and desirable to conceive of regulation primarily in terms of public law.
"The key hypothesis driving the project is that it may be more accurate and useful to understand regulation as a public law response to the failure of private law rules and processes, as opposed to a technocratic economic response to a failure of markets to perform efficiently. Testing this hypothesis will require regulation to be reconceptualised in legal rather than (or perhaps as well as) economic terms."
Dr Edward Willis is based at the Faculty of Law and is an expert in public law, regulation and civic engagement. He is receiving $360,000 over a three-year period to undertake his project 'A Public Law Theory of Economic Regulation' thanks to the Marsden Fast-Start grant.
A total of 36 University of Auckland researchers have been successful in this year's Marsden round, with 14 having been awarded Fast-Start grants worth $5.04 million and 22 Standard grants worth $19,275 million. Te Pūtea Rangahau a Marsden, the Marsden Fund, is managed by Royal Society Te Apārangi on behalf of the government.
Media contact
Sophie Boladeras | Media adviser
M: 022 4600 388
E: sophie.boladeras@auckland.ac.nz