University claims top spots in national Japanese language speech contest
Congratulations to Rika Xiong and Kitty Cheng on their achievement.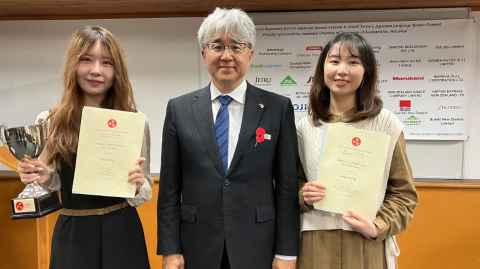 Rika Xiong and Kitty Cheng, who are both studying Japanese in the University's School of Cultures, Languages and Linguistics, won first and second place respectively in 2022's Tertiary Japanese Language Speech Contest 2022. The event was organised by Japanese Studies Aotearoa New Zealand (JSANZ) and is sponsored by the Japanese Chamber of Commerce of Auckland Inc. "Nisui-Kai," among other local organisations.
Eleven students from six tertiary institutions competed in the event this year. Entries to the contest were digitally video-recorded in front of an audience, followed by spontaneous questions and answers in Japanese.
Rika, who is majoring in Japanese through the Bachelor of Arts, took first place and the $1150 travel voucher prize with her speech 'Let's advance without giving up', sharing how she overcame difficulties at different points in her life learning figure skating and getting through the pandemic. She encouraged the audience to do the same, referring her favourite athlete's "Hard work lies, but it is never in vain". With the prize money she plans to go to Japan next year, and after graduating wishes to continue studying Japanese to become an interpreter in politics and diplomacy.
Kitty, a Bachelor of Global Studies student, was awarded second place and a $690 domestic travel voucher for her speech "Let's acknowledge diversity". Discussing how people attack those they disagree with on social media, she advocated that we should all respect different opinions and acknowledge diversity.
The awards ceremony was held on 11 November on campus with attendance by Professor Martin East, distinguished guests from local business and government organisations, prize winners' families and friends, and staff in the Japanese programme.