Building a better and smarter pacemaker
A smarter pacemaker that responds to the natural variability of our heart rate is a potential game-changer for people with severe heart disease.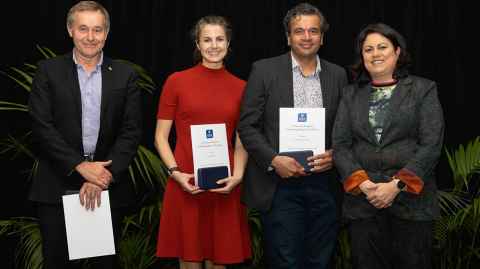 Our heartbeat has natural variability, yet current pacemakers work like a metronome, supporting an automated fixed heart rate. A team led by Professor Julian Paton and colleagues Rohit Ramchandra and Julia Shanks has developed a novel pacemaker to restore a heart patient's natural variability. 
Early data suggests the new pacemaker improves the ability of the heart to pump by 20 percent, double that of conventional devices. At the same time, the data indicates heart cell damage is able to be reversed and sleep apnea reduced. 
Next year, the new device will be trialled in patients in Aotearoa New Zealand with the potential to be a game-changer for the treatment of heart disease worldwide. The team's research was recognised with a Research Excellence Medal at Waipapa Taumata Rau, University of Auckland's Celebrating Research Excellence Awards 2022.
Media contact: Gilbert Wong, 021917942, gilbert.wong@auckland.ac.nz
Mātātaki | The Challenge is a continuing series from the University of Auckland about how our researchers tackle some of the world's biggest challenges. Challenge content is available for republication.