How the rainbow flag has developed and changed over time is the focus of an exhibition opening at Old Government House at the University of Auckland on 21 February.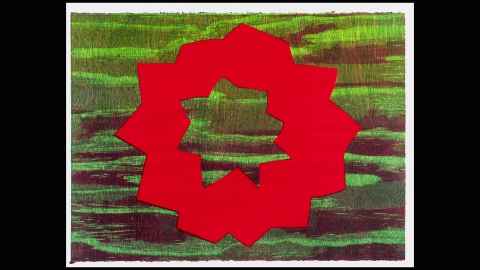 Curated by postgraduate art history students Tyler Jerrom and Shania Pablo, Queer Ethos will feature 28 works from the University of Auckland Art Collection, with references taken from Gilbert Baker's pre-commercialised rainbow flag of 1978 and Daniel Quasar's inclusive pride flag of 2018.
Notable artists on show include queer artists Yuki Kihara, Catherine Opie, Rodney Fumpston and Shannon Novak, as well as well-known names like Bill Hammond, Billy Apple, Robyn Kahukiwa and Gordon Walters.
The works are very diverse in medium with the most predominant being photography but also including digital video, screen print, wood block print, tempera painting, glitter on linen, sculpture, etching and oil and acrylic paintings.
Tyler Jerrom says the themes and values the queer community has embodied in the rainbow flag are not exclusive to queer art, but universal.
"New Zealand's most well-known and prolific artists have also explored such themes as spirituality, magic, nature and femininity. The rainbow in all its visual and metaphorical glory is part of what it is to be human."
The opening event on 21 February, from 6pm to 8pm in the Old Government House lounge, will be held in conjunction with a book launch for acclaimed New Zealand art historian and author Joanne Drayton's memoir The Queen's Wife.
The exhibition coincides with the Auckland Pride Festival (1-26 February) and will run until Good Friday, 7 April 2023.
The University of Auckland Art Collection
The collection has more than 1200 paintings, prints, photographs, sculptures and video    on permanent display.
Since 1966 the collection has acquired major works by significant New Zealand artists         including Gretchen Albrecht, Don Binney, Ralph Hotere and Colin McCahon.
The collection is used as an invaluable resource for teaching, learning and research.