Tribute to Jeremy Salmond
With Jeremy Salmond's death in January, New Zealand lost one of its best heritage architects.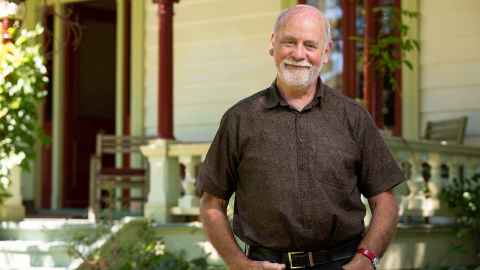 JEREMY SALMOND
2 January 1944 – 3 January 2023
Jeremy Salmond was part of the country's first generation of professional conservation architects which emerged in the 1980s and he remained a leader in the field for the duration of his career. His office, initially called Salmond Architect and later Salmond Reed Architects, is the country's largest conservation practice. It has also served as an important training ground for younger heritage practitioners, including several of those who have followed in Jeremy's footsteps, becoming leaders in the field themselves.

The practice has earned numerous architecture and heritage awards. In addition, Jeremy received the Queen's Service Order in 2007 and the New Zealand Institute of Architects' (NZIA) Gold Medal in 2018. He was recognised as a University of Auckland Distinguished Alumnus in 2021.

Jeremy was a gentle and generous person, known for his integrity and courtesy, as well as his good humour and quick wit. His particular sense of humour is apparent in the NZIA's Gold Medal booklet where, in an interview, he refers to the University's School of Architecture during the 1940s as the 'School of Artichokes'.

Jeremy was born in Dunedin and raised in Gore. The grandson and nephew of architects, he knew by high school that he too would enter the profession. He worked as a Ministry of Works draughtsman in Dunedin before completing his Bachelor of Architecture at the University of Auckland in 1971. That same year, he married Anne Thorpe, known to us all as Dame Anne Salmond, the University's Distinguished Professor of Māori Studies and Anthropology.

During the 1970s, Jeremy worked in private practice in Auckland and London. His interest in how buildings are put together, which he later described as "the archaeology of the place", encouraged him to investigate the construction of his and Anne's Devonport villa, and then to a Master of Architecture thesis on old houses in the late 1970s and early 1980s.
Jeremy was a gentle and generous person, known for his integrity and courtesy, as well as his good humour and quick wit.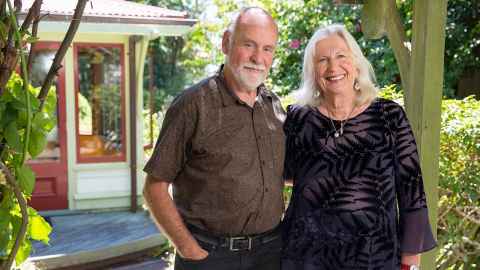 He told Ingenio magazine in 2021 that Dame Anne had been a "wonderful asset" in that process.

"When I wrote my thesis, she read every page and did the corrections. She actually transformed my ability to write."

Jeremy developed his thesis for publication in 1986 as Old New Zealand Houses, 1800-1940. The well-known book, now in its eighth edition, encouraged his heritage focus because it helped to generate clients with restoration projects.

He first established his own practice, Salmond Architect, in 1981, and re-established it in 1988 after more time in the UK and working in other practices. It became Salmond Reed Architects in 2000, when Jeremy was joined in partnership by Peter Reed. Salmond Reed remains New Zealand's largest heritage architecture practice, with a staff of around 20, doing new builds as well as conservation and restoration projects.

Important on the conservation side in the late 1980s was the adaptive reuse of the Auckland Synagogue on Princes Street as a National Bank, completed in association with architect Marshall Cook. Every decision was crucial – the approach to strengthening, what old fabric to keep and reveal, and the design of the new work. The project earned an NZIA National Award.

Jeremy and his staff were soon also working on buildings owned by the New Zealand Historic Places Trust, including the Stone Store in Kerikeri and the Pompallier Mission in Russell. A string of other conservation projects followed, notably Auckland's War Memorial Museum, Chief Post Office, Art Gallery, Civic Theatre, St Matthew-in-the-City, and the Britomart precinct; several buildings at the University of Auckland, among them the ClockTower and Alfred Nathan House; and further afield, Mansion House at Kawau Island, Tūrangawaewae Marae in Ngāruawāhia, and the Dunedin Railway Station.

Such projects have often been in collaboration with other architecture practices, with Salmond Reed providing heritage assessment and conservation advice, and the collaborators developing design solutions and liaising over heritage decisions, to ensure that the new work was sympathetic to the old. Collaborators have described the process as productive and generative. Jeremy, too, enjoyed the design end of heritage conservation work.

As well as their home villa, Jeremy and Anne bought 120 hectares north-east of Gisborne in 2000. Here they created the Waikereru Eco-sanctuary, regenerating native bush, fostering bird life, planting a 1769 garden featuring plants that grew in Tairāwhiti and were familiar to local Māori at the time of Cook's arrival, and building a new house and support facilities.

Jeremy is survived by Dame Anne and their three children, Amiria, Steve and Tim. They recall not only his obsession with old buildings and his unrelenting humour, but also his love of classical music and his delight in his grandchildren. Jeremy is deeply missed, at both the professional and personal levels.
By Associate Professor Julia Gatley, School of Architecture and Urban Planning, Faculty of Creative Arts and Industries. Julia is an architectural historian with a research interest in the heritage value of 20th-century New Zealand architecture.
This article first appeared in the March 2023 edition of UniNews.