From Business School to bridal fashion: Katie Yeung on how she designed her dream business
The Business School alumna shares her journey to establishing her leading bridal labels Hera Couture and Daisy by Katie Yeung.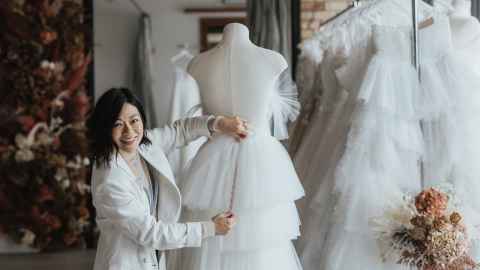 Growing up surrounded by the hum of sewing machines, amidst rolls of fabric and patterns hanging from the ceiling of her parents' workroom, you could say that fashion has always been in Katie Yeung's blood.
The Auckland-based designer and founder behind two of New Zealand's most popular bridal labels – Hera Couture and Daisy by Katie Yeung – credits her mother for sparking her passion for design. As a child, Katie learned to sew by helping her mother create bespoke garments for clients in her small, family-owned business.
That attention to detail and focus on the customer continues to be the driving force behind Katie's work today, and the reason why so many brides have chosen her designs for their big day.
I love the creation process of a beautiful, well-constructed garment – and what could be more delightful than dressing a woman in one of her most significant moments?
To this day, seeing a bride wearing one of her pieces, "twirling in front of the mirror and smiling with confidence", remains her favourite part of the job. "It's about celebrating true love with attention to detail and styling and everything fabulous in between," she says.
Katie founded Hera Couture in 2010, with second label Daisy by Katie Yeung following in 2016. The design work takes place between her Auckland-based studio and a team of skilled couturiers at her Hong Kong atelier, with Katie heading up the business alongside her husband Cliff.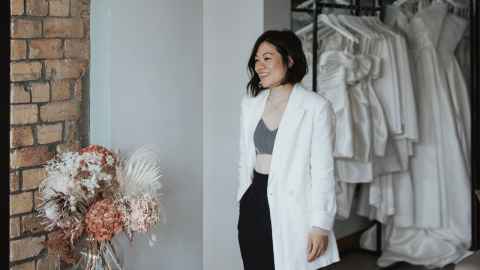 Over the years, the brand has grown from strength to strength with multiple showings at Fashion Weeks and bridal events both locally and internationally, and a growing range of global stockists. Countless brides have donned Katie's looks, including Kiwi opera singer Isabella Moore, who wore a bespoke design for her recent wedding (followed by a Hera Couture gown for the reception).
While it's no easy feat running a successful fashion label in New Zealand (let alone two), Katie credits her time studying at the University of Auckland Business School for instilling her with confidence. She studied a Bachelor of Commerce (Marketing)/Bachelor of Property conjoint degree and says it was the "best experience".
"My foundation was built here and I have many happy memories of both educational and social life," she says.
Since graduating, she has taken many of the learnings from her time at the University to heart.
The more you learn, the more you find out you don't know. Be humble, be inquisitive and be diligent in what you do.
"[Learning about] the importance of marketing in running any enterprise – whether for profit or non-profit – the importance of law and insurance, how the economy works and most of all, discipline and a way of researching information via different platforms has been very useful for me," she says.
In fact, Katie says she "highly recommends" that any future designers study business or commercial law to help them "think in a critical way" and set them up with a valuable foundation for their career.
Overall, if there was one piece of advice she would pass on to current students, it would be this: "The more you learn, the more you find out you don't know. Be humble, be inquisitive and be diligent in what you do."