Alumni achievements recognised with University honour
Waipapa Taumata Rau, University of Auckland recognises the outstanding achievements of five of its leading alumni, awarding them the prestigious 2023 Distinguished Alumni Award at Taumata on 1 April.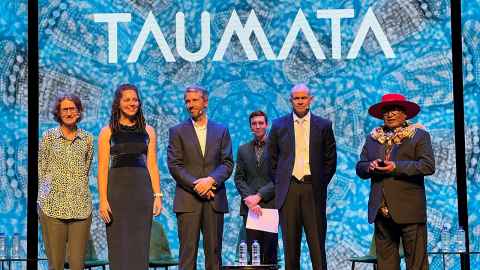 Business leader Josh Bayliss; artist Fatu Feu'u, ONZM; paediatric cardiac surgeon Dr Kirsten Finucane, CNZM; Indigenous human rights activist Dr Chris Tooley; and sailor, coach, youth Olympian and engineer Elise Beavis were honoured at a ceremony on 1 April.

Vice-Chancellor Professor Dawn Freshwater says the Taumata ceremony, named to reflect the summit or peak inherent in the University's Māori name, is one of the highlights of the year for her.

"We celebrate our graduates and the successes of our academics and researchers. And this is the opportunity to do the same for our alumni and consider the wider effect the University and its alumni have on our communities. Our Distinguished Alumni make a world-changing impact.

"I join the rest of the University in celebrating the achievements of exceptional people we are proud to call part of our community."

The 2023 recipients are:

Josh Bayliss LLB(Hons) 1996, BA 1996 (Law and Arts)
Josh Bayliss is CEO of the Virgin Group and Sir Richard Branson's second-in-command. Since 2011 he has led the development of Virgin's strategy and under his leadership, the Group has grown new businesses in a range of industries and diversified its investment portfolio.

Josh is a qualified solicitor as well as an advocate for sustainability and the role that business can play in tackling the threats posed by climate change.
Fatu Feu'u, ONZM, PGDipFA 1998 (Creative Arts & Industries)
Fatu Feu'u is an internationally recognised sculptor, printmaker, painter and ceramic artist who has created and exhibited Pacific art for more than four decades.
He is an Honorary Officer of the New Zealand Order of Merit for his services to art and, in 2022, he received the Icon Award from the Arts Foundation Te Tumu Toi for his outstanding contribution to art and his role as a leader within the Pacific arts community.
Dr Kirsten Finucane, CNZM, BHB 1983, MBChB 1986 (Medical & Health Sciences)
Dr Kirsten Finucane is Chief Surgeon of the Paediatric and Congenital Cardiac Service at Starship Hospital in Auckland. For more than two decades, Kirsten has been leading a team that operates on the hearts of the country's youngest and most vulnerable patients.

Her early experiences working at Starship sparked a desire to improve access to cardiac surgery for children in the Pacific. She is a Companion of the New Zealand Order of Merit for services to health and paediatric heart surgery.
Dr Chris Tooley DipTchg 1998, BEd Massey 1999, MA 2001, PhD Camb. 2006 (Arts)
Dr Chris Tooley, Ngāti Kahungunu, is an Indigenous rights advocate and transformative business leader. He is CEO of Te Puna Ora o Mataatua, a health and social services provider serving the Eastern Bay of Plenty.

Chris completed a PhD at Cambridge University focusing on the political philosophy behind self-determination and he holds a strong desire to serve others by investing in and empowering people. In 2002, Chris was awarded a Gates Cambridge Scholarship and in 2020 he won a prestigious Blake Leadership Award.
Young Alumna of the Year Elise Beavis BE(Hons) 2016 (Engineering)
Elise Beavis is a sailor, coach, youth Olympian and engineer who has combined her academic strengths and sporting passion into a successful career as a performance engineer at Emirates Team New Zealand.

Starting at ETNZ in 2015 as the team's youngest full-time employee, Elise was an integral part of the team developing the cutting-edge technology used in two successful America's Cup campaigns. She is the current Women's WASZP World Champion and was New Zealand Female Sailor of the Year in 2022.
Director of Alumni Relations and Development, Mark Bentley, says the winners exemplify the effort, determination and resilience required to ascend a Taumata or summit and reflect the aspirations identified in the University strategy Taumata Teitei.

"These Distinguished Alumni awardees have made outstanding contributions to their professions, their communities, to their nation, and beyond," he says. "They enrich the University."