Through the lens of Jason Fell: campus greenery on show
A photo exhibition timed to mark 140th anniversary of the University will showcase its plantings over the years.
If you look around any of the Waipapa Taumata Rau campuses, you'll see flourishes by Jason Fell everywhere.

Long-time staff member Jason is one of the guardians of the University grounds, working as the horticulturist team leader based at Epsom Campus.

With the University celebrating 140 years of existence this year, Jason is putting together an exhibition featuring photos of the gardens and grounds over the years. He'll be helped by grounds and precinct manager, Stanley Jones.

"The exhibition will show my perspective of being here for 20 years and photos I've taken over that period," says Jason, who used to work as a photographer.

Jason began working at the University in 1983, for a two-year stint. He returned in 2001 and has been looking after the gardens ever since.

He describes himself as a gardener by blood, with family working in the trade back through the generations.

"My mother's father was a keen gardener. I'm told he was one of the first to cross-pollinate carnations, making an orange carnation from that. His father was a gardener in Wellington at Government House and Parliament buildings, before they built the Beehive."

Before returning to work at the University, Jason worked as a photographer and it was those skills that led to his return to work in the gardens at the University.

"I've been a photographer for about 40 years. When I picked up a job taking photos of graduates at the University in 2001, I wandered in to see my old boss. Speaking to him again made me realise how much I had enjoyed working here. I have a real connection with the grounds, especially the trees."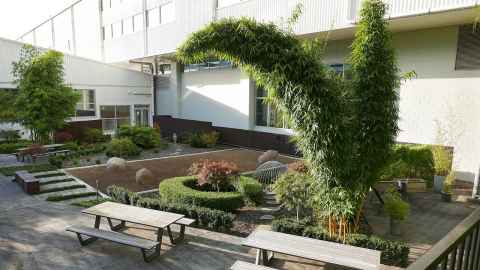 Newmarket can feel like a concrete jungle. But this is a space in the middle of the city where you can get out and unwind for a bit. That's so valuable. 
The exhibition will be a special opportunity for the University's horticulture team to show off their work. The Asian-fusion garden at the Newmarket Campus will be one of the many planting projects showcased. The garden style is primarily Japanese, with a Chinese influence, and the formation and design is by European gardeners. Jason is particularly proud of that garden.

"Newmarket can feel like a concrete jungle," he says. "But the students and staff at this Campus absolutely appreciate this area. It's a space in the middle of the city where you can get out and unwind for a bit. That's so valuable."

Although the gardens and the plants within them are always changing, the age and history of a plant can play a significant role in the decision-making process surrounding its future.

"My philosophy is that if a tree has lived for 80 years, it has a right to live out its life unless it becomes too dangerous to have it there."

He says trees on campus didn't suffer too much because of Cyclone Gabrielle. "I put a lot of that down to having a proactive pruning approach to our significant trees on campus."

One of Jason's favourite plants is a 120-year-old Moreton Bay fig tree at the Epsom Campus. The tree is as old as the Campus itself and because of its significance, has even outlived some of the buildings there.

"When I first took over the Epsom Campus, the Moreton Bay fig was towering over U block. It used to drop its figs and sometimes the branches would fall. It hit a roof one day and no one reported it or did anything, and it caused a leak that wasn't too good for the building.

"Instead of removing the tree, they ended up moving the building off this campus. I liked that because it was as if the tree had won."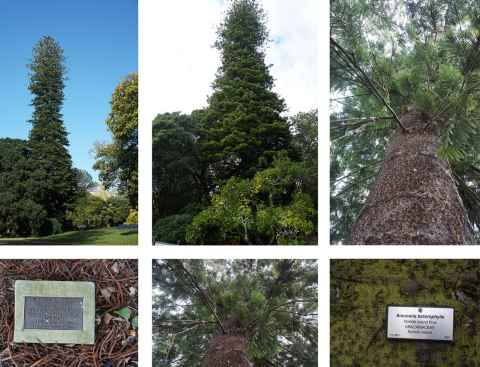 If a tree has lived for 80 years, it has a right to live out its life unless it becomes too dangerous to have it there.
When it comes to designing new planting projects, Jason takes practicality and the future of the garden heavily into account. And he also has some advice on how to make a great garden.

"One thing about being a horticulturist is you are always looking ahead. So, when I design or if I'm looking at a garden, I'm seeing it three years in the future and not now. You do get a lot of landscaping designers that come in and plant, and it looks great initially, but within a year or two it gets so overcrowded that it needs major stuff pulling out.

"When you're designing a garden, you're thinking of varieties of plants, and whether they will suit that area. But also, how easily are they maintained? Do you have to prune the plants a lot? There are many things to consider."

Due to the limitation of land available, Jason worries that future sustainability initiatives may be more of a challenge to implement. Moving from Epsom Campus will impact the gardeners' work in this area, but they are looking at ways around it.

"When we move from Epsom, we won't have enough land to collect our leaves and mulch, and will have to get chipping done on the other campuses. So it's going to be a challenge to keep up with the composting in the way we have done here at Epsom Campus."

Always looking at solutions, he has one that could work. "We have Ardmore Field Station so it might be good to try and set up new sustainability initiatives somewhere like that."

William Chea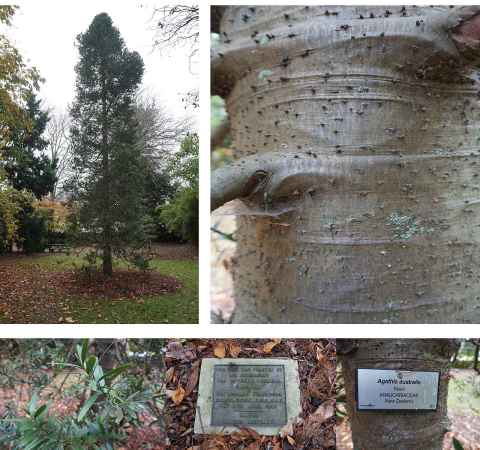 Jason Fell's 140th anniversary photo exhibition will run from 15 June at Old Government House.
This story first appeared in the April 2023 issue of UniNews.