Tongan eruption exceeded most powerful US nuclear test
Scientists simulate "megatsunami" from January 2022 eruption.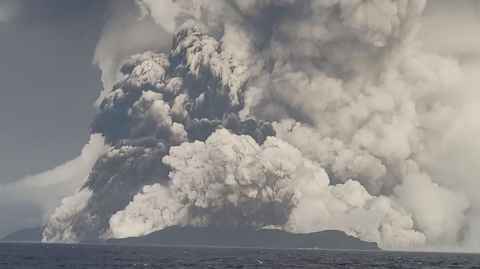 The January 2022 eruption of an underwater volcano in Tonga was more powerful than the largest U.S. nuclear explosion, according to a study co-authored by the University of Auckland's Professor Shane Cronin, a volcanologist in the School of Environment. 

Waves up to 45 meters high along the coast of Tonga's Tofua Island featured in the "megatsunami" generated by a 15-megaton explosion from the volcano Hunga Tonga-Hunga Ha'apai, according to a simulation by researchers.
Waves were up to 17 meters on Tongatapu, the country's most populated island, the model showed.
Scientists combined before-and-after satellite imagery, drone mapping, and field observations to create the simulation, building on Professor Cronin's work as the first international volcanologist in Tonga after the disaster.
The biggest of a series of blasts was the equivalent of 15 million tons of TNT exploding simultaneously and was one of the largest natural explosions in more than a century, according to the research, led by the University of Miami and the Khaled bin Sultan Living Oceans Foundation.
Immediately after the explosion, waves stood 85 metres high on the north side of the volcano and 65 metres high on the south side, the simulation shows.
The death toll was limited to an estimated six people. 
"Fortunately, the urban center of Tonga, Nuku'alofa, situates in a sheltered lagoon," the scientists wrote. "Had the population been dispersed along the exposed ocean-facing coastlines of the archipelago, a much higher death toll might be anticipated…"

Expansive shallow water around many Tongan islands helped to defuse the power of tsunami waves and tourist resorts were closed because of the Covid-19 pandemic.
Sitting in the zone with the highest density of submerged volcanoes, Tonga has a long tsunami history.
The main Tongan island, Tongatapu, is believed to have been inundated in precolonial times, including a major tsunami in the mid-15th century, which severely affected the powerful Tu'i Tonga kingdom.
The new paper, titled "The 2022 Hunga-Tonga Megatsunami: Near-Field Simulation of a Once-in-a-Century Event," was published in the April issue of Science Advances.
The authors included: Sam Purkis and Nathan Fitzpatrick from the University of Miami Rosenstiel School; Alexandra Dempsey from the Khaled bin Sultan Living Oceans Foundation; Steven Ward from the University of California, Santa Cruz; Professor Cronin; James Garvin and Dan Slayback from the NASA Goddard Space Flight Center; and Monica Palaseanu-Lovejoy from the U.S. Geological Survey.

The study was supported by New Zealand's Endeavour Fund, Waipapa Taumata Rau/University of Auckland, Khaled bin Sultan Living Oceans Foundation - Global Reef Expedition, and NASA Goddard Space Flight Center.
 
Media contact
Paul Panckhurst | media adviser
M: 022 032 8475
E: paul.panckhurst@auckland.ac.nz