Teacher Annette Wilson, aged 90: 'Reading is your whole world'
Annette Wilson's teaching career spanned many decades. Until recently, the 90-year-old was still helping children with their reading.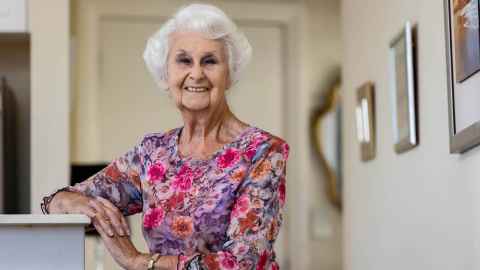 When Auckland Teachers' College graduate Annette Wilson began her career, children lined up every morning. They marched into class with fingers curled and arms swinging. School corridors served as the new entrant classroom before bells rang and older pupils spilled into the space.
Seventy years on, Annette has only just given up teaching, most recently volunteering to help with reading at Glendowie Primary.

"I would love to continue, but I don't think children need an old face, do you?"

Annette explains that she has a new qualification. "When people introduce me, they say, 'This is Annette. She's 90!'"

Her smile suggests that over the years there have been a few thousand students gushing over their favourite teacher. She says she was a creative influence and far from the disciplinarian.

"My teaching career was truly a love of children, without looking for grading or promotion, because the rest of my world was so full."

That's not to say she doesn't do extra, even still. She is secretary of two bodies, a convener of two others and a patron of Northland Ballet.

Her career began in 1951 as "an immature 17-year-old with pigtails" from Titoki, around 25km from Whangārei. Her early aspirations of becoming a hairdresser or dress designer were sidelined by a nudge in another direction by career advisers who recognised her strengths. So, she caught the train from Whangārei to begin a two-year teaching course in Auckland.

Although homesick at first, she was rallied by the beauty and camaraderie she found at Rocklands Hall in Epsom. She still recalls the glass-walled circular staircase, the ballroom, and the romance of those years, which secured lifelong connections, including with then-warden Alix Warren.
"Alix influenced so many lives – simple cares like the thruppence in your suspender to get yourself home in a taxi."

Later in life, Alix cajoled Annette to join the 'Old A's' committee. Now wound up, the alumni group has established an annual in-perpetuity prize of $1,000 for the best Summer Scholar in the Faculty of Education and Social Work.
I found, given time, anybody could learn to read. I firmly believe that.

Annette left the school system in the late 1950s until a callback came to complete more training in 1971. The narrative was, "If you don't take it, children will have nine relievers this year."

"I was enticed back, as a woman with three children and four dependent geriatrics at home. I was probably swimming upstream the whole time, although I was always well-organised."

Annette taught in Kamo East and then Kamo. She saw the impact of urbanisation policies on Māori communities. Families were brought in from their rural homes into urban lives along a ribbon-road housing development.

Inside and outside the classroom, reading was Annette's joy. "Reading was your whole world."

In 1983, she trained as a Reading Recovery teacher. With new approaches to literacy, she had to rethink the rigidity of the 1950s and became dedicated to the practices cemented by Dame Marie Clay, the architect of Reading Recovery in New Zealand. 

"I found, given time, anybody could learn to read. I firmly believe that. Marie Clay said that, too. Whatever the problem, we could find a way around it."

During the 1980s, Annette became a 'culture representative' for the Hillary Commission and remembers being "spread like butter" between two tenacious sports representatives vying for dollars. After two terms of her smiles and perseverance, Whangārei had a theatre, and funding was split proportionally between sports, culture and social enterprise.

Back in Auckland, as "a very little minion", she helped organise the 1990 Commonwealth Games ceremonies with choreographer Mary Jane O'Reilly.
At the same time, she was talent-spotted for a Reading Recovery position at St Michael's School in Remuera, Auckland. Annette stayed for 25 years. When St Michael's built a new hall, the architect factored in a Reading Recovery room with all the facilities.

"It was my dream world."
Golden Graduates are those who graduated from the University of Auckland 50 or more years ago, along with graduates aged 70 and over.  
This article first appeared in the Autumn 2023 edition of Ingenio.