University celebrates $21m of Marsden funding
New Zealand's leading research institution, the University of Auckland, is celebrating a boost to research.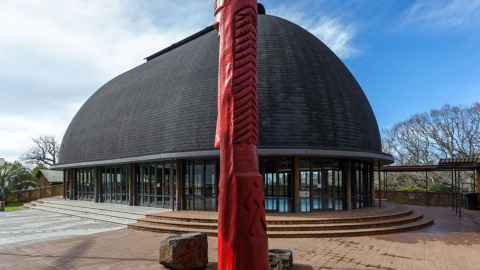 Te Pūtea Rangahau a Marsden, the Marsden Fund, has allocated $21.5 million to 31 projects led by researchers at Waipapa Taumata Rau, University of Auckland.
Marsden grants support excellent research in the humanities, engineering, mātauranga, mathematics, science, and the social sciences for three years.
Established researchers and their teams were awarded 19 Standard grants for a total of $17.2 million. Safe replacements for "forever chemicals," gene editing and how sleep disruption affects vocal learning in animals are among the broad range of projects.

Twelve up-and-coming researchers got Fast-Start grants for a total of $4.3 million. Environmentally friendly production of concrete, bias in speech technology, and how bumblebees power flight are research areas. The grants are designed to encourage the development of independent research and build momentum for exceptional careers. 

Outside of the Faculty of Science, which received $14.6 million, the Auckland Bioengineering Institute was prominent, with $2.8 million for three projects relating to social connection in virtual worlds, computational modelling of the lymphatic system, and unravelling the effects of vaping on the lung.

Grants were received by staff in the Faculty of Medical and Health Sciences, Faculty of Engineering, and the Faculty of Education and Social Work and many projects stretch across faculties.  

All of the funded projects are of world-class standard, having made it through a highly rigorous selection process, including substantial international peer review.

Marsden Fund Council Chair Professor Gill Dobbie says, "Te Pūtea
Rangahau a Marsden provides support for our leading and early-career
researchers to carry out cutting-edge, curiosity-driven, 'blue sky' research."

The majority of external expert reviewers are international, and funded projects have been recognised for their excellence and potential for significant scholarly impact, both nationally and internationally.

Here are lists of principal investigators on projects.


Standard Grants
James Muirhead, Science
Stephane Coen, Science
Lisa Pilkington, Science
Hayley Reynolds, ABI
Jonathan Astin, FMHS
Kelly Burrowes, ABI
Kristal Cain, Science
Mary Sewell, Wendy Nelson, Science
Miro Erkintalo, Science
Erin Leitao, Science
Hilary Sheppard, Science
Cameron Weber, Science
Deborah Young, FMHS
Nobuto Takeuchi, Science
Mark Billinghurst, ABI
Frauke Meyer, Jo Smith, EDSW
Nicola Gavey, Science
Rachel Fewster, Jesse Goodman, Ben Stevenson, Science
Marston Conder, Eamonn O'Brien, Jianbei An, Science
Fast Start Grants
Diana Benavides Prado, Science
Enrique del Rey Castillo, Engineering
Jules Devaux, Science
Jesin James, Engineering
Larissa Markwardt, Science
Rajko Nenadov, Science
And Pasley, EDSW
Charlie Ruffman, Science
Lauren Smith, Science
Matthew Sullivan, Science
Sarah Ward, Science
Wen Zhang, Engineering

Media contact
Paul Panckhurst | media adviser
M: 022 032 8475
E: paul.panckhurst@auckland.ac.nz