From Singapore to Chile: our alumni carving careers
Anthony Doesburg talks to three University of Auckland alumni whose degrees led them to exciting roles in different parts of the world.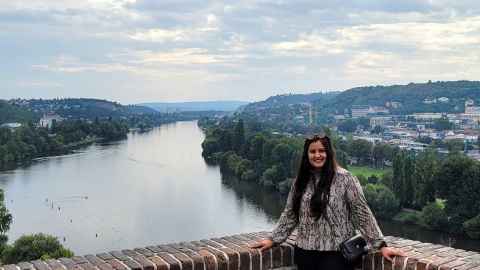 I'm inspired by my grandparents … who ignited a curiosity for science and discovery in me.
Yukti Vyas: Bordeaux France
A stellar academic career has delivered Yukti Vyas a dream position with the crème de la crème of neuroscientists in France. Yukti completed her four degrees, including a PhD in Biomedical Science at the University of Auckland, from 2010 to 2021, culminating in her move to the Bordeaux Neurocampus at Bordeaux University in France during the Covid pandemic, where she is a neuroscientist and researcher.

"I'm working on discovering and testing therapeutics for neurodevelopmental disorders such as autism, building on the research I did during my PhD," Yukti says.

She discovered her field during a summer internship at the Centre for Brain Research in the Faculty of Medical and Health Sciences in 2012. Along the way, she collaborated on multidisciplinary projects within the University, collected national and international awards, presented work at Australasian and European conferences, and was published in international journals.
Yukti credits many mentors within the University with helping her.
"Not only those who mentored me academically, but also those who encouraged and guided me to build my leadership and teaching skills.

"But, most of all, I am inspired by my grandparents, Mohan and Ramila Gandhi, who ignited a curiosity for science and discovery in me from a young age."

Yukti is now reaping the rewards of her efforts and the input of her teachers.

"Every day at work is different and every day requires a new aspect of problem solving and solution seeking.

"I am also supervising and mentoring students and the opportunity to inspire and coach the next generation of neuroscientists is one of the most exciting and rewarding parts of my work."

As a passionate traveller, she says being in Bordeaux is the icing on the cake.

"Living in France makes it easy for me to travel around Europe and the UK.

"But I miss my family and friends on the other side of the world – and New Zealand's delicious food."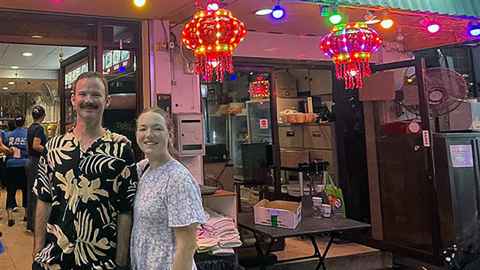 Every day I think about how I can learn more from international experts and reimagine what the future could look like.
Oriana Brine, Singapore
In a time when environmental disaster hogs the headlines, Singapore-based Oriana Brine, a marine science and biodiversity masters graduate, offers a nugget of hope.
"The good news is biodiversity loss is increasingly being recognised as one of the most important and likely business risks, alongside climate change," says Oriana.

Recognising a problem is the first step to finding a solution, and Oriana's job at the Boston Consulting Group's climate and sustainability hub is to support big businesses in transforming their commitments into action.

The best thing about the role is working "with the most curious minds" on new ways to solve the biggest challenges of our time: climate change, biodiversity loss and growing social inequality.

"Every day I think about how I can learn more from international experts and reimagine what the future could look like to create environmental, social and economic change."

Studying science was always Oriana's plan, but she found working in a lab didn't suit her.

"I have always been interested in the way things work and I relate best to biological systems because you can see how plants and animals interact in front of your eyes."

An interest in how the environment affects the economy led her to the University's biosecurity programme, after which she found work in the Ministry for Primary Industries biosecurity response team.

She and her husband Elliot, a law alumnus, were seduced by Southeast Asia during a holiday and decided they would return to live there after first getting more experience in their chosen fields in Auckland. They've been in Singapore since 2019.

Oriana loves the diversity of the city's people and its exotic blend of food, culture and ideas.

"You'll have a Korean BBQ restaurant, Chinese temple, co-working office, European cheese store and eight-storey malls within two blocks."

And there's no need to feel homesick. "There's a tonne of New Zealand food products sold here, so you never feel too far from home."

Not that living in Aotearoa in the future is off the agenda.

"Our country is unique – I haven't met an overseas Kiwi who doesn't want to go home. The question is when. There's a lot more I'd like to see and do before returning."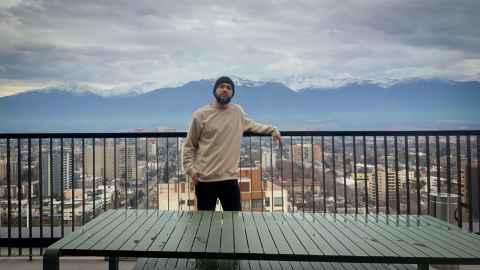 Living in a place, you experience it in a deeper way than as a tourist.
Gustavo Pernia, Santiago Chile
Gustavo Pernia is happy to bestow a little free urban-planning advice on Auckland's city leaders from where he's living in Santiago.
"I'm an advocate of mixed-use, medium-density neighbourhoods, prioritising clean public transport and incentivising a gradual change towards polycentric cities," he says.

He lived in Auckland for his urban planning degree at the University from 2016 to 2018, but the 37-year-old Venezuelan is now nearer his homeland, working as an architect and research and development consultant on projects across Latin America.

"My Auckland experience, with the degree and also the work I did at an architecture and urban design firm, allowed me to be involved in international projects covering a wide range of design needs and scales," Gustavo says.

"I'm now into digital manufacturing of the built environment and also connected with cross-media storytelling endeavours."

Gustavo, who came to New Zealand with the help of a scholarship from New Zealand's Ministry of Foreign Affairs and Trade, chose New Zealand to improve his English because of its geographical and cultural distinctiveness.

He misses the multicultural environment, kindness and "the witty Kiwi banter", and urges people to embrace work and study overseas.
"Living in a place, you experience it in a deeper way than as a tourist. It's enriching and rewarding."

Which isn't to say his present home doesn't have its advantages. "Where I am is a sort of personal hub that's well connected with my previous countries of residence. I have family and friends spread around South America, the US and Europe."

Even if Auckland gave itself a shot in the arm by intermingling new and reinvigorated old architecture, public spaces, transport hubs and diverse-use zones, adding up to Gustavo's idea of a liveable city, it would still lack what he has in Santiago.
"I love having the snowy Andes mountain range right there, which you can look at almost every morning."

New Zealand, meanwhile, is just a direct flight away.
This item ran as the regular Around the Globe feature, in the Spring 2023 Ingenio.