Sarah Smart and a career focused on culture
Alumna Sarah Smart is the UK champion of a Kiwi gourmet yoghurt big on sustainable impact. By Louise Chunn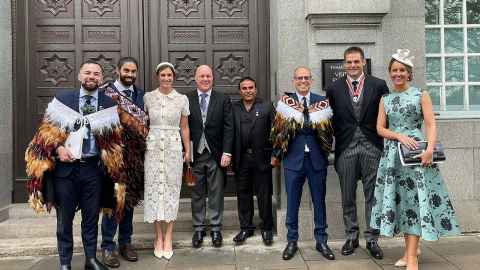 Attending the coronation of King Charles III is the high point of Sarah Smart's time in the United Kingdom. Invited to attend the event by Kea New Zealand, she was one of several alumni of the University of Auckland.

Sarah runs the UK/European arm of high-end yoghurt business The Collective, and declares being at the Coronation as, "the most amazing experience of my life".

"I was a bit blown away, to tell you the truth; I just run a yoghurt business!"

Wearing a design by fellow Kiwi Emilia Wickstead, she accompanied the likes of Richie McCaw and NZ Rugby Commercial CEO Craig Fenton.

"Whatever you feel about royalty, it was a historically significant event and I just felt so privileged and proud to be there."

In 2001, armed with a BCom (Marketing), Sarah joined the graduate trainee programme at food giant Mars Inc. Within a couple of years, she was making major decisions. She knew how fortunate she was to have secured her place, but one day it struck her: "I'm only 22, I'm too young to be doing this!"

Sarah had started at Mars the Monday after her final exam. She'd had no break, no fun. So she took off for Aspen, Colorado, and supported herself waitressing, while volunteering on the mountain to get a ski pass, and generally having "heaps of fun snowboarding".

She met her future husband, UK-Australian Jordan Smart, and after a couple of high-octane years of travel, they settled in Auckland, where Sarah returned to work at Mars. A few years on, the couple wanted to try living in the UK. She took a job as marketing manager of Innocent Drinks, a natural juice and smoothie maker.

"They wanted people with experience, but not indoctrinated by corporate life."

Sarah ticked that box and delighted in her five-year role in the game-changing business whose case study is a popular talking point in business schools. "I still use some of the tools and processes that I learned at Innocent."

She left the company when it sold to Coca-Cola, from which she benefited. "But nothing like the founders. I'm still working!" She was motivated to move because her first child had arrived and the family wanted to head home.

Sarah had met the founders of The Collective, chefs Angus Allan and Ofer Shenhav, while in London and was keen to work with them. There were synergies with Innocent, and she was excited at the innovative take on dairy, creating premium products from natural produce.
They wanted people with experience, but not indoctrinated by corporate life.
Until 2020, she helped build The Collective in Auckland, moving from marketing director to general manager. After private equity firm Pencarrow invested, she was asked to take over the UK side of the business, so packed up her three children and husband and returned to London in 2020, where she lives in Beaconsfield, Buckinghamshire.

The Collective is a New Zealand-owned business, but its products, available across all major supermarkets in the UK, are produced with milk supplied by British farms.

"We are exporting IP from New Zealand, in a very New Zealand industry, dairy."

Gourmet yoghurt, smoothies and kefir are sold in bright packaging with a signature (no) bull logo, and stand out on the shelves. But they are a mere 2.5 percent of the $3.7 billion yoghurt market in the UK, although nearer 20 percent of the children's market.

The past year has seen double-digit growth in the UK, but Sarah is just as passionate about growing the brand's ethics and purpose. The Collective is a B Corp company, verified to meet high standards of social and environmental impact. A few years ago, it introduced its first carbon-neutral yoghurt, and it aims to fully reach carbon-neutral status by 2025.

"We are going to do it better and hold ourselves to higher standards. Dairy is a huge market here and we are a pioneering part of it. I want our people and purpose at the forefront."
This profiles appears in the Spring 2023 Ingenio.