Get involved in Waka Ama through the Ocean Blue Sports Club at Okahu Bay.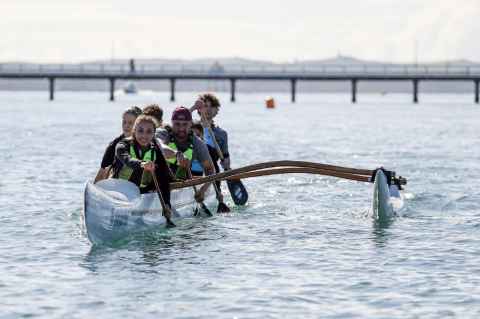 Join the Ocean Blue Sports Club community at Okahu Bay during these fun, weekly Waka Ama paddling sessions. No experience is necessary and their coaches will join you as you head out along the coastline of Auckland's central beaches.
All specialty gear including a lifejacket and paddle is provided and there is no inital cost associated with attending these sessions – you just need transport to and from Okahu Bay! If you choose to continue on with the sessions you will be required to become a paying member of Ocean Blue.
Sessions begin from the boat ramp behind the new Hyundai Marine Sports Centre building, 10 Tamaki Drive, Orakei. The two types of session available are:
Introduction to Waka Ama - Saturdays at 8am
Club Training - Tuesdays & Thursdays at 6pm, Sundays at 8am
If you haven't paddled before, you must attend an Introduction session before joining the Club Trainings. If you're an experienced paddler you're welcome to join the Club Trainings immediately.
To register your interest, please complete the below form. If you have any questions contact albie.eaton@auckland.ac.nz