2021 Distinguished Graduate Award Recipients
Learn about the achievements of some of our Distinguished Graduate Award recipients.
Entrepreneurial pursuits take Alaa places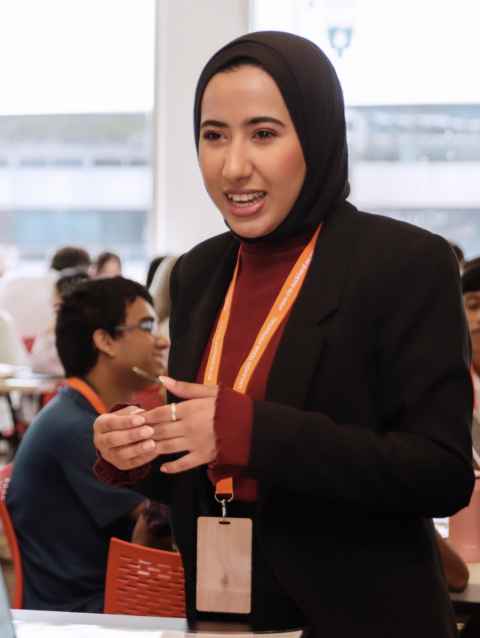 Who: Alaa al Aamri
Area of study: Bachelor of Earth Sciences/Bachelor of Environmental Sciences conjoint
Co-curricular activity or voluntary role: Participant in Summer Lab, President of OSA, UniGuide
What did you enjoy about the Co-curricular Recognition Programme?
I like the idea of the Co-curricular Recognition Programme because it allows students to develop skills and learn in a meaningful way, encouraging them to achieve in areas outside of academics. For me, it was a great opportunity to be part of a fantastic team and develop my skills in different areas. I entered Summer Lab only with an idea, not having anyone in my circle at the time who might be interested in innovating. From day one at Summer Lab, I was able to have a great team that believed in my idea, helped me develop it further and won third place. The end of Summer Lab meant the beginning of our idea journey and we're now in the development and prototyping phase – we hope to release our device to market by the end of 2022! We also entered the Velocity Innovation Challenge with our idea and won the Social prize. I'm proud that I was part of Summer Lab as it has opened many doors for me in the entrepreneurial space.
 What did you learn while completing the Distinguished Graduate Award?
This experience was an insightful & empowering one. I learned how to be the best version of me, and it helps me reach my potential as I explore and develop my personality through each path in the programme. This experience helped me overcome challenges, develop more life skills, and complement the skills I gain from my education. Additionally, the process of completing the Distinguished Graduate Award made my job interviews easier because it helped me talk about my experience and education holistically, and show employers that I bring a great balance of a qualification along with soft skills.
Developing skills old and new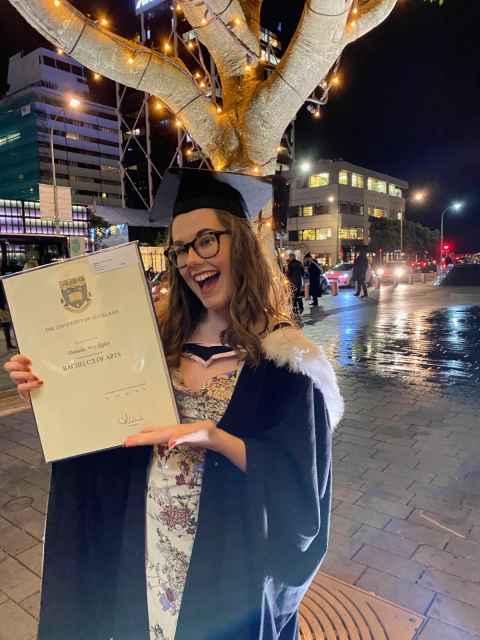 Who: Danielle Sigley
Area of study: Bachelor of Arts, Majoring in Drama and Classics
Co-curricular activity or voluntary role: In 2020, I was lucky enough to be elected as the Marketing Manager of The University of Auckland's (UoA) Stray Theatre Company, which was a volunteer role and counted towards the Leadership pathway in the Co-curricular programme. For the Community Engagement pathway, I have been a Resident Adviser at first year halls for UoA for the past 2 years.
What did you enjoy about the Co-curricular Recognition Programme?
A big aspect of the Co-curricular Recognition Programme which I enjoyed was the opportunity to reflect and build on what I learnt throughout my activities. Through completing the written reflections, I could look back on my time in these roles and see how much they have helped to develop old and new skills. It also gave me the chance to reflect on my time as a student at UoA, and be proud of the things I have taken part in.
What did you learn while completing the Distinguished Graduate Award?
A major learning outcome would definitely be the opportunities that the programme gave me, such as the workshops and final interview. It's the helpful tips and tricks for preparing for a job interview that I'll remember and will be undoubtedly beneficial in the future.
Striving for excellence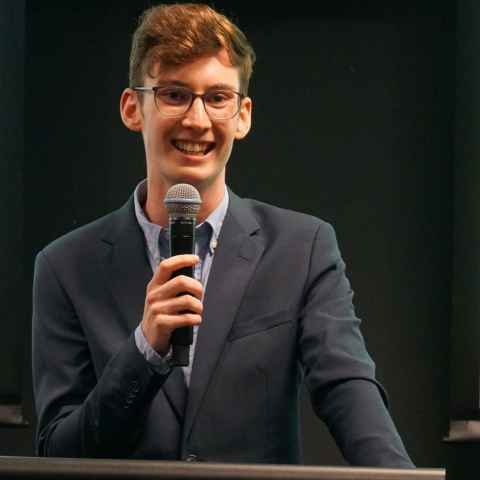 Who: Josh Ellwood
Area of study: Bachelor of Global Studies/Bachelor of Laws conjoint
Co-curricular activity or voluntary role: President of Auckland University Global Studies Society, and President and Co-Director of the University of Auckland Law Revue Inc. 
What did you enjoy about the Co-curricular Recognition Programme?
The co-curricular recognition programme gave me an opportunity to reflect on what I have done, and encouraged me to strive for excellence in the future. I loved attending the wide range of career development workshops, where I learnt vital and relevant career skills, such as interviewing and networking.
What did you learn while completing the Distinguished Graduate Award?
I've developed my professional leadership and interpersonal skills, including how to mediate between large groups of people. The Distinguished Graduate Award has given me the confidence and desire to launch my career as soon as possible.
Personal development and growth through volunteer roles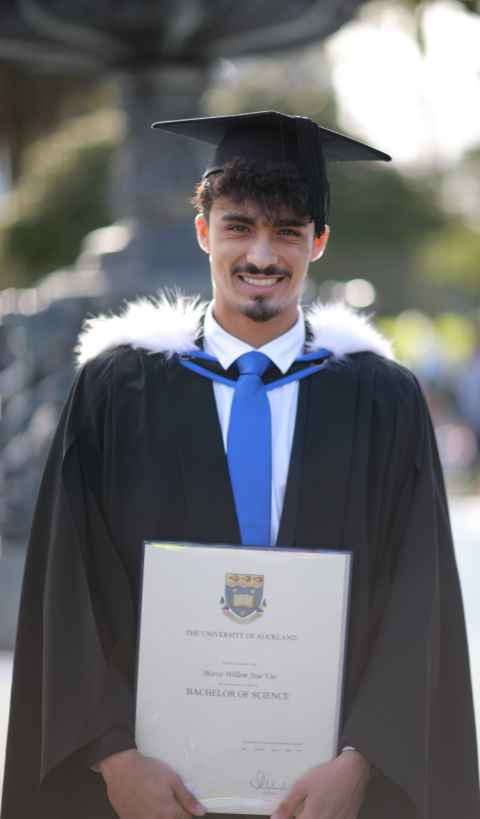 Who: Marco Vás
Area of Study: Bachelor of Science (Honours) in Chemistry
Co-curricular activity or voluntary role: Class Representative, School of Chemical Science Undergraduate Representative, Science Mentor, and in the UniGuide Programme as both a UniGuide and a UniGuide Leader.
What did you enjoy about the Co-curricular Recognition Programme?
Volunteering is a rewarding experience where you can help others, while also gaining valuable soft skills and experiences. The Co-Curricular Recognition Programme is a great way to get recognition for all your hard work that you put into the university community if you pursue the pathways such as the community engagement and leadership pathway. What I enjoyed the most about the programme was that it gave me the opportunity to reflect about how my volunteering experiences positively impacted myself which helped lead to my personal development through all the soft skills I learnt.
What did you learn while completing the Distinguished Graduate Award?
The self-reflection exercises allow you to get a better understanding of all your strengths and weaknesses which can then be utilised to further develop yourself to be the best person you can be. The Distinguished Graduate Workshop also gives you a good toolkit for approaching interviews to help you stand out from the rest of applicants. Besides having hard skills required for a job, employers also look at your soft skills such as your communication, teamwork, leadership, etc. which are extremely important with how you will work within the company, and this is what the Co-curricular Recognition Programme aims to assist you with. Looking back on it now, if my past self and current self were the top two candidates for a job, I would guarantee that my current self would get the job and that would be entirely from the soft skills I've learnt over the last two years. If you have the time to volunteer, then you have the time to complete the programme and you won't have any regrets about it! As Eric Butterworth once said, "Don't go through life, grow through life".
Building meaningful connections through volunteering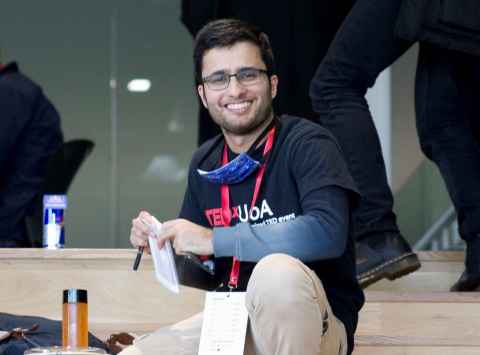 Who: Nicholas Kondal
Area of study: BE (Hons)/BSc conjoint (Biomedical Engineering, Computer Science, Physics)
Co-curricular activity or voluntary role:
Community Engagement Path: UniGuide (2018 - 2020)
I was a Science and Engineering UniGuide in 2019 and 2020 and I took first-year students on a tour of the campus, answered any questions they had during Orientation and afterwards via email, and attended hangouts with them throughout the semester.
Leadership Path: TEDxUoA Co-President (2020)
I lead a team of more than 20 students to run TEDx events at the University of Auckland, including our annual conference at the end of the year as well as smaller events throughout the year to engage the university community in sharing ideas.
What did you enjoy about the Co-curricular Recognition Programme?
I thoroughly enjoyed the opportunity to reflect on my volunteering experiences as a mentor for first-year students and leading a student organisation, and being able to showcase all the passion and effort that went into my activities with people I've come across since then, including friends, family, potential employers and more. Besides all the valuable experiences and connections made through my volunteering, having that formally recognised was the cherry on top of my 6 years at university!
What did you learn while completing the Distinguished Graduate Award?
The soft skills you gain through giving back to your community in any shape or form are invaluable. Spending your time on people and causes you care about helps you gain a deeper understanding of how humans and organisations operate, and can open you up to situations where you can fail and learn quickly. All these experiences are the bread and butter of building great personal and professional connections, and they help define who you are as a person, and who you want to become. The opportunities for engaging in volunteering are endless, and the effort you put into taking part in the CCRP and becoming a Distinguished Graduate is nothing compared to all the transferable skills and STAR answers you gain that help you communicate your passions and strengths and unleash your potential!
Gaining transferable skills through the programme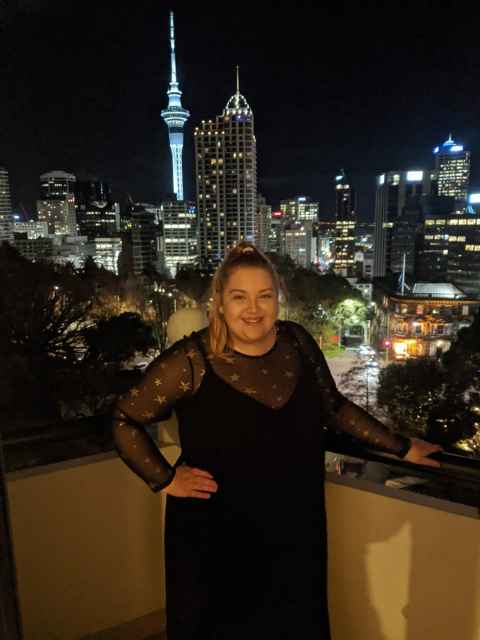 Who: Olivia Edith Johnson
Area of study: Bachelor of Science majoring in Chemistry and Biological Sciences, Postgraduate Diploma in Forensic Science and Master of Science in Forensic Science
Co-curricular activity or voluntary role:
Science Students' Association Vice President Postgraduate, Science Faculty Mentor Leader, UniGuide and AUSA Class Representative
What did you enjoy about the Co-curricular Recognition Programme?
As a postgraduate student, it can be really hard to meet others and get out of your research group to socialise. One of the things that I enjoyed the most about the programme was that it gave me some drive to attend events, make connections, attend workshops, volunteer for roles/responsibilities and to just get involved in some of the exciting things that UoA has to offer (other than academics of course!). Getting these activities formally recognised was just an added bonus!
What did you learn while completing the Distinguished Graduate Award?
When I was completing the Co-curricular Recognition Programme, I was just a couple of months away from submitting my Master's thesis. This also meant that I seriously had to start thinking about job prospects. The biggest takeaway for me was therefore how to market myself for the job position. Through each of the pathways I completed (Leadership and Community Engagement pathways) I was able to sit down and really think through what I had been involved in, what skills these activities helped to develop, and then which skills were transferable to a career in forensic science.
The workshop then provided some really useful methods to take those transferable skills and develop them into a marketable point, either for my CV, cover letter, or for answering common interview questions. These skills were put to the test in the session, where I practiced writing some key statements in response to a real job advertisement, and later practiced answering these questions in the interview. A few months on I handed in my thesis and got serious on the job hunt and was able to land one of my dream roles demonstrating that selling yourself to a hiring team was one of the most important learning outcomes. I would strongly recommend all students, and in particular PG students, to take the plunge and start the programme today!