2015: Masters Inter-University Challenge
The University hosted the inaugural 3MT Masters Inter-University Challenge in 2015.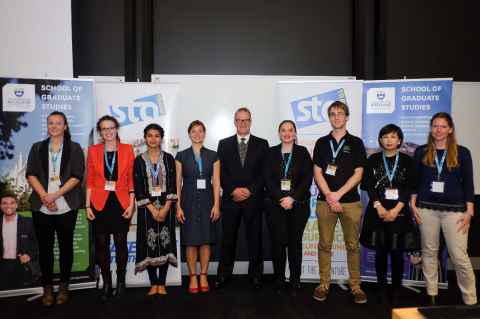 2015 Finals
Eight finalists, a representative from each university, competed head-to-head in this first Masters Inter-University Challenge hosted by the University of Auckland on Thursday, 10 September 2015.
The finalists (In order of appearance)
Jin Kim
University of Canterbury
Title: Being Kowi (Korean-Kiwi): Intergenerational Transmission of Korean Language in New Zealand
Watch Jin Kim's presentation on YouTube
Nicola Beatson
University of Otago
Title: Motivation and Satisfaction at Work: Is it the Money or the Job?
Watch Nicola Beatson's presentation on YouTube
Valerie Bianchi
University of Waikato
Title: What are the needs of Department of Conservation Rangers working in education?
Watch Valerie Bianchi's presentation on YouTube
Laurien Heijs
Lincoln University
Title: Biodiversity Compensation – Broken Promises

Samuel Paterson
AUT
Title: The reliability and discriminative ability of badminton specific change of direction testing
Watch Samuel Paterson's presentation on YouTube
Sehar Moughal
University of Auckland
Title: Increasing social connections for young migrant women in the NZ community using video self modeling
Watch Sehar Moughal's presentation on YouTube
Rosie Moody
Victoria University of Wellington
Title: The Secret Life of Depression Vulnerability: Unlocking the Mystery of Frontal Brain Asymmetry
Watch Rosie Moody's presentation on YouTube
Hannah Young
Massey University
Title: The Near-Death Experiences of Māori
Watch Hannah Young's presentation on YouTube
Judges were extremely impressed by the high standard of presenting and had a difficult time choosing a winner. Congratulations to Hannah Young, Massey University, who was announced overall winner with her outstanding presentation.
The competition was hosted by:
University of Auckland
AUT
Massey University
Lincoln University
University of Canterbury
University of Otago
University of Waikato
Victoria University of Wellington.
2015 winners
Congratulations to Hannah Young from Massey University who was crowned the winner of the inaugural 3 Minute Thesis Masters Inter-University Challenge on Thursday, 10 September!
University of Auckland masters candidate Sehar Moughal was placed second and Rosie Moody from Victoria University of Wellington was placed third.
Well done to all eight finalists who participated at the event!