Jamie-Lee talks about her research into Māori experiences of healthcare, inequality and her people-centred approach to data.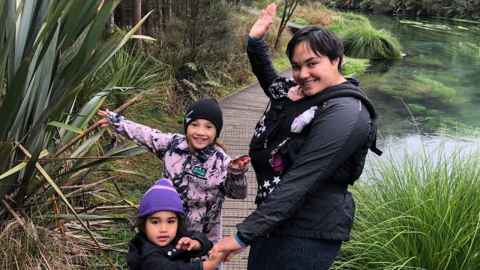 Key facts
Doctoral programme: PhD in Surgery
Thesis title:  Exploring Māori Experiences of Bariatric Surgery
Supervisors: Prof. Andrew Hill & Dr. Matire Harwood
Faculty: Faculty of Medical and Health Sciences, Department of Surgery
Funding: HRC Māori PhD Scholarship
Tell us about your journey to PhD study
"Tēnā Koutou. Ko Jamie-Lee Rahiri ahau. He uri tēnei nō Ngāti Porou, Ngāti Whātua ki Kaipara me Te Atihaunui-a-Pāpārangi. I was born and raised in Tokoroa and am very blessed to be a mother, wife, doctor and emerging researcher.
"I completed my Bachelor of Medicine & Bachelor of Surgery at the University of Auckland in 2014, and have been based at Middlemore Hospital ever since. I was working on Professor Andrew Hill's surgical team when he asked me to join his research group at the South Auckland Clinical Campus."
Tell us about your topic
My thesis investigates Māori experiences of weight loss surgery in Auckland with particular focus in the Counties Manukau region. One of the great health inequalities facing Māori is the prevalence of obesity and obesity-related disease. Bariatric surgery is a real intervention with the potential to cure and prevent (or at least keep at bay) these conditions. But it is not without its own difficulties, and the socio-political tenets surrounding the use and acceptance of this type of surgery in New Zealand fascinates me.
Put simply, I wanted to investigate not only how 'effective' bariatric surgery was for Māori, but also to understand how we could optimise the health benefits for Māori post-surgery.
What motivates your research?
"My initial project was completely different and, looking back, it would have been a lot simpler in terms of the methodology and research approaches. The problem was, it wasn't my passion: it would have gotten me the ticket but I wouldn't really have developed as a person. The turning point was being told by another senior doctor 'you (Māori) will never be successful until you realise your own people are holding you back'. For the first time I realised how vulnerable Māori are in the NZ health system and how hard it was going to be to try and get rid of these attitudes. New Zealand is racist. I live it and experience it every day. Despite all the good things my whānau and I do out of pure passion, we're treated differently because we are Māori. When I speak out against it, I'm faced with backlash. I decided that I couldn't spend three years doing something that would have meant compromising my integrity and who I am as a person.
"I had two options: throw it all in or do something about it. My husband booked us a bach up in Pātua Bay and we spent the weekend away. He looked after our babies and I sat down and drafted a research proposal ready to present to my supervisors on Monday. I must have written for 24 hours straight. I conjured up all the things that made me tick, what made me feel purposeful as a person, as a doctor, as a young Māori mother, and I just wrote. What resulted puts a spotlight on how cruel New Zealanders can be against obese individuals, against bariatric patients and against Māori."
The last few years have definitely made me stronger and better as a person and as a doctor.

What is it like to move from clinical practice to doctoral researcher?
"Life before the PhD was a lot busier as I was working at Middlemore Hospital as a House Officer. Despite being busy, there was a level of certainty about my career direction and I felt like I was on a constantly moving wheel taking me from house officer, to surgical registrar to applying for surgical training. Now that I'm doing a PhD, everything is unpredictable, and my timelines and commitments are 99% dependent on my own action or inaction. It takes a lot of adjustment!
"The last few years have definitely made me stronger and better as a person and as a doctor. Research is an important facet of clinical practice that, when done well, benefits patient care, and during my time as a researcher I have become more critical as both researcher and clinician. I've noticed issues in our health system and its responsiveness to patients that now seem glaringly obvious - this is especially true for issues surrounding Māori health. For me, this journey is about developing as a person and equipping myself with more skills in order to be the best advocate I can be in serving my people as a doctor."
Do you have any advice for those going into doctoral study?
"Be honest and compassionate in your approach to your work. Research, especially clinical research, relies on you getting information concerning the lived realities of other people. Even if a large component of your research relies on working with retrospective data, be mindful that you are measuring outcomes and producing a narrative for the people behind that data. It sounds soft and fluffy, but our health system could use a strong dose of that.
"Haere e whai i te waewae o Uenuku, kia ora ai te tangata | Go search for the footprints of Uenuku, so that humankind may be nutured."