Jean M Allen (nee Uasike) is a doctoral candidate whose research challenges negative perspectives of the South Auckland community she loves.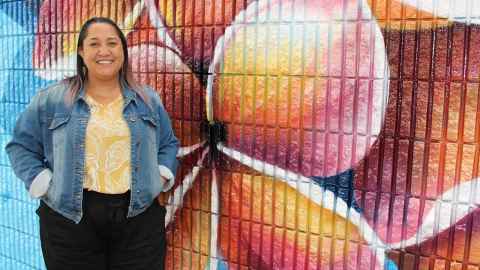 Key facts
Programme: PhD in Education
Research topic: Youth negotiations of health education
Supervisors: A.P. Katie Fitzpatrick and Dr. Darren Powell
Academic unit: Faculty of Education and Social Work
Funding: PhD scholarship in Health Education  
Journey to doctoral studies
"I went into a three-year Bachelor of Teaching (Primary) straight out of high school, then spent four years as a primary teacher before having children. As a stay-at-home mum, I became heavily involved in Playcentre and completed levels one to three of their ECE course before deciding to do the eight-week Upgrade Skills for Postgraduate Study course run through the University of Auckland. The course leaders encouraged me to consider further study and so, thanks to my supportive husband, I pursued a PG Diploma in Education, then a Masters of Education, and then applied for a scholarship in Health Education with A.P. Katie Fitzpatrick. I won and was able to work alongside her on her Rutherford Fellowship project while doing my PhD."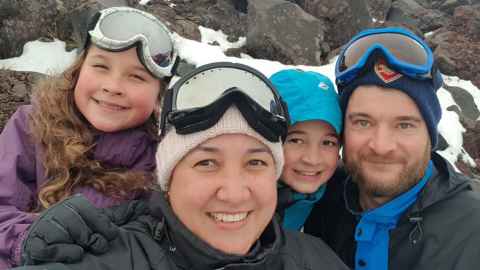 Passion for research
"I have always been passionate about my South Auckland community and especially annoyed about the way in which it is negatively understood. My PhD explores media representation of South Auckland and the way youth speak back to negative discourse. Specifically, it challenges deficient research that often focuses on managing or fixing unhealthy 'brown' South Auckland youth. I worked with senior health students in South Auckland schools to explore what contributes to young people's health and wellbeing status.
"Although obesity, healthy eating and exercising are rampant in discourses about young people's health status, for these South Auckland youth, individualised discourses and Westernised standards of health are not centralised. Rather, South Auckland youth perspectives of health and wellbeing are holistic and reflect the importance of the collective."

Doing work with people from my community and family has been
a highlight of my doctoral journey. It helps to keep me motivated and grounded.

More than a doctorate
"I'm in my fourth and final year of study, so my current priority is writing up my thesis. Before this, though, doctoral study has been disseminating my research, making the most of opportunities and getting involved in wider university life. I have published in journals, worked on book chapters and attended domestic and international conferences such as Contemporary Ethnography Across the Disciplines (South Africa, 2016; Chile, 2018) and the LOWITJA International Indigenous Health and Wellbeing Conferences (Melbourne, 2016; Darwin, 2019). While international conferences are amazing, community work is just as important. I have spoken on numerous occasions in schools and written opinion pieces for our local newspaper.

"In 2015, I competed in Three Minute Thesis and won Masters Runner-Up. In 2016, I was honoured to speak about my work with South Auckland youth at TedX Manakau. I have taught and co-ordinated the Upgrade Skills course that had such an impact on me, and went on to take part in the Doctoral Academic Leadership Initiative (DALI) to gain insight into academic careers and meet PhD students outside of my faculty.
"My involvement in wider University life includes working on a number of committees (LGBTI working group; PGSA Committee; Equity Group; ICEAD) and several conference organising groups."

Watch Jean's 2016 TedX talk: Stereotyping is no laughing matter
Maintaining balance

"My tips are: be passionate about your topic and what you are doing; be kind to yourself; finally, try to maintain balance in your life by keeping in touch with friends and spending time with loved ones.  
"My journey has been a team effort and is not mine alone. I have found endless support through Pasifika Success at the Faculty of Education and Social Work and the MIT writing group run by Fetaui Iosefo. I am supported by my family, friends and community - particularly my amazing husband and kids - and my supervisors have been exceptional at encouraging me through this journey. I am very lucky to have such great people around me."