2017 Blues Awards winners
The 2017 Blues Awards ceremony was held on Friday 29 September at the Pavilion on Old Government House lawn. 114 Blues were awarded to students who had achieved in sports, the arts and culture and service and leadership.
Major award winners
Sportsman of the Year Award
Dylan Schmidt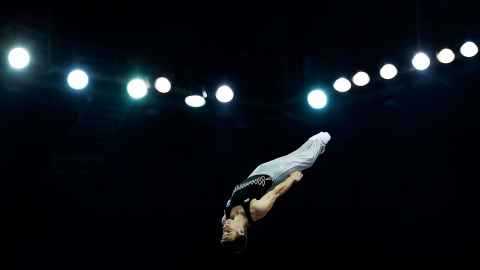 Dylan had great success at the 2016 Rio Olympics. He became New Zealand's first athlete to compete in Trampoline at an Olympic Games and performed with distinction, finishing seventh in the individual men's category.
Dylan also won bronze at the Pacific Rim Championships and placed ninth in the Swiss World Cup. He holds the New Zealand records for difficulty, set total score, voluntary total score, and total score. 
Sportswoman of the Year Award
Eliza McCartney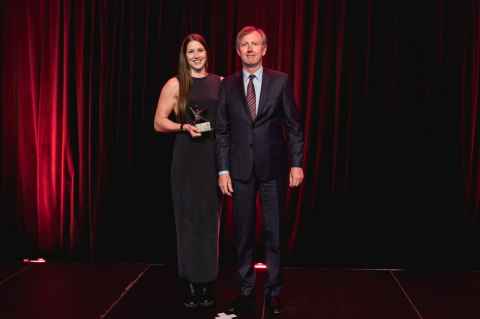 Pole vaulter Eliza McCartney won an incredible bronze at the 2016 Olympic Games, with a height of 4.80m. Eliza was the youngest Olympic medallist ever in the women's pole vault. Eliza later went on to win bronze in the 2017 IAAF Rome Diamond League, with a height of 4.75m. 
Eliza's new personal best of 4.82m was achieved at the 2017 International Auckland Track Challenge, where she won gold.
Māori Sportsperson of the Year Award
Michael Brake (Ngāti Porou)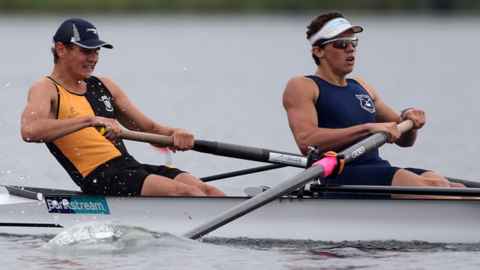 Michael attended the 2016 Olympic Games in Rio as part of the New Zealand rowing men's eight, which placed sixth. Rio was Michael's first Olympic Games, having qualified for the 8 for Rio at the 2015 World Rowing Championships in Aiguebelette with a significant fourth place.
Para-athlete of the Year Award
Keegan Owen Pitcher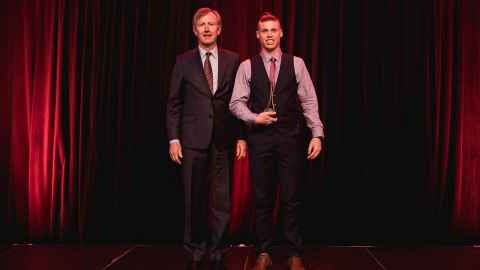 Keegan has had many great successes as a para-athlete in T36 classification track events. He won gold in the 100m, 200m, and 400m at the Oceania Championships in Fiji and 2 bronzes in the 400m and 800m at the World Para Athletic Championships in London.
Keegan currently holds the New Zealand record in 200m and 400m.
Award for the Most Meritorious Performance (Sport)
Eliza McCartney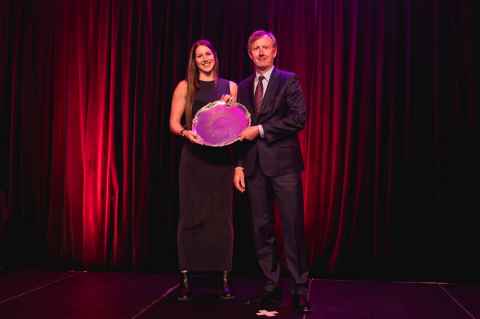 Eliza's bronze medal at the 2016 Olympic Games in Rio has secured her the Most Meritorious Performance in Sport. This result was a huge achievement, with her 4.80m clearance equalling her national record and personal best at the time.
Eliza was also only the fourth New Zealand Olympic medallist in a field event.
Award for the Most Meritorious Performance (Arts and Cultural)
Sarah Foster-Sproull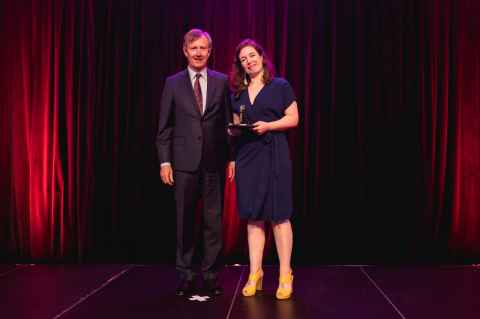 Sarah has been awarded Creative New Zealand's highest honour for a choreographer, The CNZ Choreographic Fellowship. This fellowship provides her with $100,000 to pursue a rigorous programme of dance-related events over two years and promote her creative work internationally. This includes creating a new choreographic work; collaborating with artists and companies in New Zealand, Fiji, Australia, Scotland, Singapore, and America; building her business capabilities and international profile; and starting a company to provide professional experience to dance graduates.
The fellowship assessment panel described Sarah as "one of New Zealand's most compelling, innovative and creative choreographers."
Award for the most outstanding contribution (Service and Leadership)
Lucy McSweeney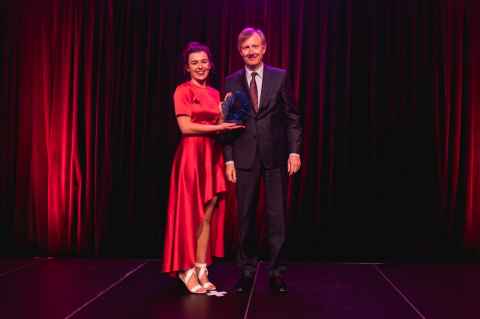 Lucy is a passionate mental health campaigner who is working to improve mental health education in the New Zealand school system.
Her petition, which collected over ten thousand signatures, calls for better guidelines and adequate training and funding for mental health education in the high school curriculum. The petition was delivered to parliament in June and is currently under select committee review for action.
Lucy has been open with her own experience of mental illness in her advocacy. She hopes that being open about such a challenge will provide hope to the one in five other young New Zealanders who face mental health problems and encourage them to seek help.
As part of her campaign, Lucy has spoken at schools and forums and engaged with politicians and the media.
Sports winners
Name
Activity
Abbie Palmer
Squash
Alani Nicklin
Volleyball
Alexandra Parker
Volleyball
Alice Tilley
Orienteering
Amie Limbrick
Powerlifting
Aniket Parikh
Cricket
Anjali Thakker
Ice hockey
Ariana May Kereopa

Canoe racing (sprint kayak)

Surf life saving

Ashton Reiser
Canoe sprint
Bailey Anne Lovett
Olympic weightlifting
Billy Bowman
Waka ama
Britney Ford
Canoe sprint
Callum Herries
Orienteering
Cameron de L'Isle
Orienteering
Catherine Layburn
Rowing
Charlotte Moss
Olympic weightlifting
Charlotte Spence
Rowing
Coral Huang
Ultimate Frisbee
Dallas Watene
Waka ama
Daniel Keleghan
Fencing
Dean Shu
Table tennis
Devon Beckman
Orienteering
Dylan Schmidt
Trampoline
Eleanor Delos Reyes Adviento
Curling
Elise Salt
Triathlon
Eliza McCartney
Pole vault
Emma Bavelaar
Underwater hockey
Frazer Ellis
Ice hockey
George Muir
Hockey
Georgia Naera
Waka ama
Georgia Carter
Lacrosse
Georgia Henderson
Lacrosse
Hayley Carter
Softball
Helen Murray
Ice hockey
Hilary Munro
Water skiing
James Ramsbottom
Underwater hockey
James Thwaite
Canoe slalom
Jessica Retter
Waka ama
Jonathan Kumarich
Rowing
Josie Stevens
Waka ama
Kayla Fairbairn
Orienteering
Keegan Owen Pitcher
Para athletics - track
Kim Thompson
Canoe sprint
Lara Molloy
Orienteering
Litia Tuiburelevu
Karate
Martin White
Polocrosse
Matthew Battley
Trail running
Michael Brake
Rowing
Michaela Sokolich-Beatson
Netball
Molly Swanson
Triathlon
Nicholas Kazunari Rowsby
Karate
Nona Taute
Waka ama
Pippa Hayward
Hockey
Rachel Adams
Lacrosse
Rebecca Cole
Canoe racing
Ryan Pieter Deen
Underwater hockey
Sam Kettle
Triathlon
Samantha Harrison
Hockey
Samuel Ruruarau Hiha
Hockey
Sarah Carson
Waka ama
Sid Dymond
Water polo
Sione Molia
Rugby sevens
Stacey Michelsen
Hockey
Tommy Hayes
Orienteering
Vaoala Enesa
Waka ama
William Raea
Touch rugby
Arts and Cultural winners
| Name | Activity |
| --- | --- |
| Aditya Vasudevan | Debating |
| Amanda Megayanti Wijaya | Architecture - design |
| Ana Lenard | Mooting |
| Andrew Taylor Grant | Mooting |
| Bernard Jinhyun Kim | Barbershop singing |
| Brooke Bardell-Munro | Architecture |
| Caroline Hope | Urban design |
| Catherine Kwak | Cello |
| Chirag Jindal | Architectural design |
| Chris Ryan | Debating |
| Clovis McEvoy | Composition |
| Daniel Maier-Gant | Debating |
| Elliott Morgan | Architecture |
| George Gillard | Competitive robotics |
| Hanna Valentine | Sculpture and installation |
| Jack Barker | Competitive robotics |
| James Penn | Debating |
| James Rankin | Debating |
| Jessica Clare Chase | Competitive robotics |
| Joshua Pearson | Music composition |
| Kate Turner | Architecture |
| Katherine Eichelbaum | Mooting |
| Kayla Grant | Debating |
| Kirsten Strom | Music composition |
| Linda Dallimore | Music composition |
| Ling Zhang | Dance - hip hop |
| Lucy Harrison | Debating |
| Michael Arada Greenop | Mooting |
| Priscilla Leow | Dance |
| Rui Wen | Competitive robotics |
| Sarah Foster-Sproull | Choreography |
| Steven Barker | Competitive robotics |
| Taylor Chan | Architecture |
| Tiaan Nelson | Mooting |
| Xavier Muao Breed | Dance |
| Yinan Liu | Architecture |
Service and leadership winners
Name
Alistair Lock
Anna Zam
Caroline Hope
Charles Norton
Erena Wikaire
Georgina Hitchcock
Kat Poi
Lucy McSweeney
Morgan Archer
Rachel Basevi
Urvashi Singh