Learn how Engineering masters student Banuka went from struggling to find part-time work to securing an Account Manager role with Hilti.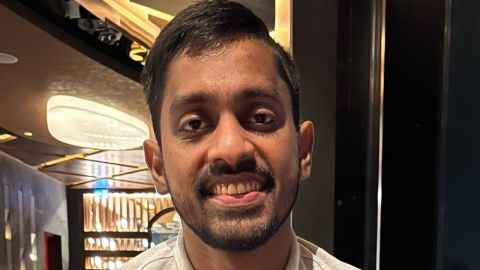 I originally hail from Sri Lanka and completed my bachelor's degree in mechanical engineering at the University of Nottingham in 2018. Following the completion of my undergraduate studies, I was offered employment at a multinational company based in Sri Lanka, which is one of the largest apparel manufacturers in South Asia.
Over a span of 3.5 years, I had the opportunity to work in two different roles, namely Operations Engineer and Business Analyst, within the organisation. However, driven by a strong desire to expand my knowledge in academia, I made the decision to relocate and pursue a master's degree in engineering management at the University of Auckland.
Through my experience as an operations engineer and a business analyst, I had the opportunity to leverage the knowledge I gained from my engineering degree while venturing into a completely new field: business analytics. This experience sparked a desire within me to further enhance my understanding of management principles while honing my engineering skills. It was during this time that I made the decision to enrol in the Master of Engineering Management, which offers courses from both the engineering and business faculties.
Initially, my aspiration was to pursue a career as a design engineer within the aerospace industry. However, as time went on and I gained experience as both an engineer and a business analyst in the manufacturing sector, my perspective began to shift. The exposure I received in these roles made me rethink my career path. I became increasingly drawn to opportunities that offered strategic and innovative work, where I could actively contribute to unique projects instead of engaging in repetitive tasks. This new perspective led me to explore different avenues and consider roles that aligned more closely with my evolving professional goals.
The programme allows me to maintain and strengthen my core engineering skills while exploring areas such as project management, people management, and business administration. I feel privileged to have been awarded the International Student Excellence Scholarship, which has provided valuable support for my studies. My goal was to combine the analytical thinking developed as an engineer with the dynamic challenges of a job that presents new and diverse obstacles each day. The programme provides me with the perfect platform to achieve this aspiration and merge the best of both worlds.
Upon arriving in New Zealand with a student visa that permits me to work for 20 hours per week, I was determined to make the most of this opportunity. Consequently, I sought part-time employment in four different industries: education, retail, sports, and hospitality in order to be able to interact with individuals from diverse cultural backgrounds, further enhancing my soft skills.
I encountered significant challenges in securing even part-time employment upon arriving in New Zealand. It was a frustrating experience, as I couldn't comprehend what I was doing wrong.
However, my perspective changed when I attended a CDES workshop specifically designed for new international students, facilitated by Liudmyla Beraud. It served as a profound revelation for me. I realised that the preparation, CV, and cover letters I had been using in Sri Lanka were vastly different from the requirements in New Zealand. This realisation sparked my desire to understand what employers in New Zealand were seeking, leading me to seek guidance from Liudmyla.
I had the privilege of collaborating closely with Liudmyla, who served as my mentor in effectively presenting my skills and qualifications to make them appealing to potential employers. Through regular appointments with her, I received invaluable guidance in highlighting and showcasing my strengths. Each session with Liudmyla significantly boosted my confidence when it came to interviews and job applications. I am truly grateful for her support and the positive impact she had on my professional development.
It was during this time that I applied for a position at Hilti, one of the multinational companies operating in New Zealand. I pursued a role within their global programme, undergoing an extensive interview process and successfully becoming one of the two representatives from the Asia Pacific Region. Although I did not advance through the rigorous 8-hour final assessment conducted by the regional head office in Singapore for their 'Global Outperformer' program, I was fortunate enough to be offered a position as an Account Manager at Hilti, based in Auckland, New Zealand.
With the assistance of CDES, the application and selection
process for the role became much more streamlined and manageable, despite its thorough and challenging nature. Their support greatly simplified the entire
process.
If you have concerns about securing employment after completing your studies, I encourage you to seek assistance from CDES (Career Development and Employability Services). They specialise in boosting your confidence and helping you align your skills with the most suitable job opportunities. Don't hesitate to reach out to them, as they can provide valuable guidance and support in your career journey. Also, they are friendly and very approachable.