Find out how Master of Energy graduate Gary Cui used CDES to help secure a job for First Gas Limited in NZ.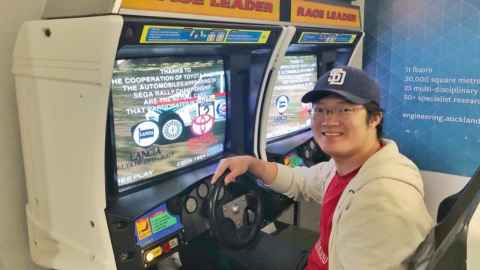 I am from Beijing, China. I am interested in the energy industry, especially renewable energy, carbon abatement, and topics on sustainability.
I was studying in the Master of Energy programme from 2019 to 2022. As an interfaculty programme, this degree provides a wide range of courses not only including solid engineering courses, but also the ones offer perspectives from economics and management to view the energy world. That's why I was so interested in it.
Master of Energy Programme gave me the latest knowledge of energy industry, which strengthened my background and enhanced my competitivity in the job market. During the programme, I worked as a commercial analyst in the energy industry.
I often walked by the Kate Edger building where the CDES office is located and frequently received workshop information in my Uni email box.
After attending several workshops, I found that the knowledge and techniques offered were very solid and helpful regarding NZ workplace practice and culture. Therefore, I decided to dive deeper and booked 1 on 1 sessions with advisers to have more personalised and customised assistance.
The CDES consultants offered to help me build a NZ style CV and provided me with a very insightful view of NZ job market and many personalised suggestions regarding my background.
With the help from CDES, I had a much clearer cognition of
NZ job market and how it is different from that of the countries that I have
lived in (China and the US). That helped me to adjust my job searching
strategies in the NZ context. As a result, I successfully got several
interviews and the offer of my current job.
I am currently working as Transmission Commercial Analyst in the First Gas Limited. I experienced two rounds of interviews (around 40min for each) for my current role. There were also 2 online assessments after the interviews.
Honestly, it is so easy to get nervous during an interview and I'd say I will never be fully prepared. However, the professional advice (even including how to cope with nervousness) I received from CDES did help me a lot and definitely made the process much smoother.
A tip I would give to students in a similar position to myself is to use the 'make your life easier' approach. During my master's programme, I always told myself to do things that would make my life easier, because it could be very high pressure, especially with so much workload and uncertainty of future job searching. With this approach, I made my wellbeing my first priority.
You might implement this by communicating with friends, classmates, and professors to know the surroundings and yourself better. This could include academic stuff to understand the course content, course selection strategy, and research project progress. And it could also include daily life, like asking friends and classmates for tips on great places for food, scenery, and relaxation.
I strongly recommend the services and suggestions offered by CDES. The experienced advisers and professional workflows will definitely provide solid understanding of NZ job market, which could help to save a lot of energy and time for students doing job searching.