Learn more about the people working to make our campuses healthier places for the University community.
Liz Hosking-Clement - Manager of Oranga Tauira | Student Wellbeing
Liz comes from a mental health nursing background and has specialised in child and youth mental health. She has worked across public, private and the NGO sector. As manager, she steers the team's key initiatives, while also cementing relationships across the University to ensure there's an increased awareness around the wellbeing needs of students.

Thibaut (Tee) Bouttier-Esprit - Health Promotion Advisor
Tee was born and raised in New Caledonia. A qualified health promoter, Tee has a background in community health and has been involved in many different projects in the field of rainbow health, sexual health, sexual harm reduction and international student advocacy. Tee is passionate about community-led work and sees communities feeling empowered as a central aspect of his work.
In his role as health promotion advisor, Tee works on promoting the wellbeing of the students of the University whilst engaging with various stakeholders. Lots of the work revolves around equity and harm prevention and engaging students with a sustainable and digital view of health promotion.  
Our Wellbeing Ambassadors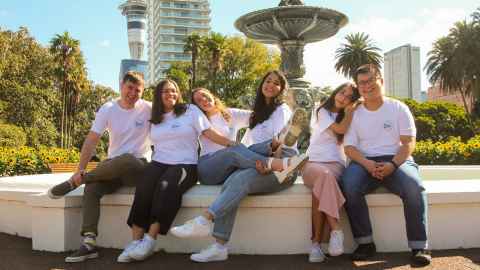 The Wellbeing team now employ eight student Wellbeing Ambassadors. Our Wellbeing Ambassadors are passionate and engaged students who support the wellbeing team in the planning and implementation of projects and initiatives, as well as delivering messages and trainings, and stand as the student voice within the wider team. You will often see their friendly faces at events and activations around campus throughout the year.
Stay up-to-date with news and events by keeping an eye on the Wellbeing Ambassadors Facebook page.
Contact us