Feeling a little isolated? Here are some ways you can kick loneliness to the curb.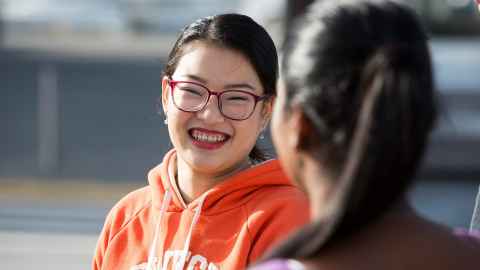 Despite being surrounded by people on campus, attending University can be a lonely time. This may be because you are adapting to a new environment, or haven't yet made any strong connections with people who have similar interests to you.
Feelings of loneliness are extremely common and can occur at any time in a person's life, so if you're feeling this way, don't worry.
There are some proactive steps you can take to help shed your Nigel No-mates skin.
Say hi: We know you haven't had to 'make friends' for quite some time, so we understand how unsettling it can be when you're faced with that proposition. But don't forget, so many people are going through the exact same thing. Next time you are in a lecture, think about turning to the person next to you and just saying 'hi'.
Join up: University is the place to be joiner, because there are so many things to get involved in! There are more than 200 clubs, associations, and societies associated with Uni, so be sure to check some of them out, it's a great way to make new friends.
Go out: Auckland is a pretty vibrant city, and there's always something happening.  Take time out to go see a band or a play, or think about joining a book club. Here at Uni, keep an eye out for upcoming events across all the campuses on the University's Facebook page.
Get sweaty: Group fitness classes are a really good way to interact with others, while also releasing a few of those feel good endorphins.
Be patient: It's important to remember that long lasting friendships, like all good things, take time! Don't be too hard on yourself if you're not instantly BFFs with every person that crosses your path, just trust that in time, you will find your people.