The AUSA Buddy Programme was created to help ease the transition for new international students adjusting to Kiwi culture.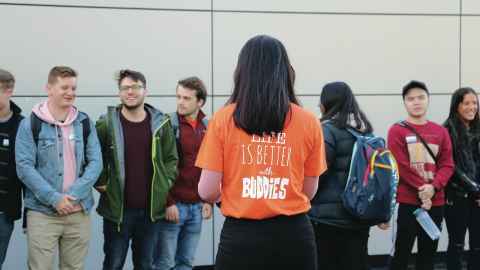 The first month in New Zealand may be overwhelming for new international students. There is a lot of paperwork to complete, homesickness is common, and some uniquely Kiwi customs may seem perplexing.
Having experienced this journey, an AUSA Buddy can help ease you into life at the University of Auckland and in New Zealand.
What does an AUSA Buddy do?
An AUSA Buddy is an existing University of Auckland student who is paired with a new international student to offer support and guidance. Matches are based on shared interests or major.
Buddies commit to at least two face-to-face meet ups, which could involve:
meeting in person to explain key administrative processes, such as applying for a student visa, an IRD number, converting a driving license, or obtaining a suitable photo ID (i.e. 18+ card)
taking a walk down Queen Street to point out the nearest supermarket and best places to eat, buying a phone card, or loading an AT HOP card
having an ongoing mentoring relationship through the first semester
How are AUSA Buddies different from UniGuides?
UniGuides support new students in navigating the university environment, but this does not necessarily include life hacks on Auckland and New Zealand. International students require information specific to settling down in New Zealand, and that is what the Buddy Programme focuses on.
International Student Officer at AUSA
The Auckland University Students Association has an officer dedicated to helping international students adjust to life in New Zealand and at the University. The International Students Officer represents international students on the executive of AUSA.
We hope you don't encounter problems during your time in Auckland, but if you do have concerns, don't be afraid to voice them to your International Students Officer. Part of their job is to make your stay as enjoyable as possible.
You can find the International Students Officer in AUSA House, 4 Alfred Street, City Campus. Alternatively you can email them at iso@ausa.org.nz.