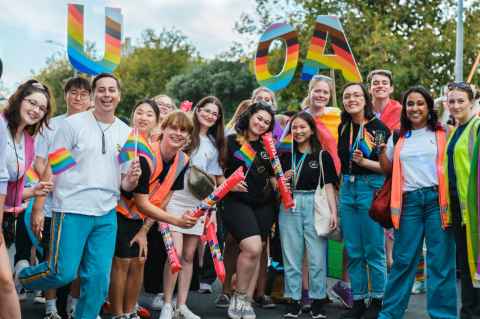 Pronoun stickers for your Campus Card
Get a free pronoun sticker for your Campus Card from us! Come find us in QueerSpace (311-302) on Wednesday 13 or Thursday 14 September from 12-1pm to pick one up.
The purpose of the range is to ensure our ongoing allyship and commitment to supporting our rainbow communities. Stickers available include; she/her, he/him, they/them, he/they,
she/they, xe/xem, 'any pronouns' as well as a progress flag and 'ally' sticker,
while stocks last.
If you can't make it, and would still like a sticker, or have any questions about the range you can email Michael (Rainbow Support Worker) on studentrainbownetwork@auckland.ac.nz
Why are pronouns important?
Pronouns, a way to streamline language, have historically emphasised a binary construct of gender. While many individuals use a pronoun associated with their sex assigned at birth, gendered pronouns, and the assumptions behind them, can be a stressor, particularly for people who are transgender and nonbinary. Pronoun expression can be an important part of a person's identity.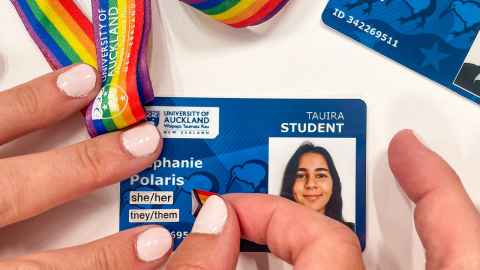 Rainbow Support Drop-ins
Our Rainbow Support Worker, Michael (he/they/ia), will be around answering any questions and providing support to all our students. Have a question? Pop by a drop-in session on Mondays from 12-2pm in QueerSpace (311-302)! 

Rainbow merchandise at the Campus Store
In conjunction with the Campus Store, the University  has a range of rainbow merch available to students and staff in celebrating our communities on campus. A portion of each sale will go towards supporting our rainbow communities on campus, in funding a variety of events and initiatives. Pick your flavour; mugs, pronoun pins, lanyards, hoodies and even socks in store! Find out more here.