After arriving from Burundi with only a suitcase, there were multiple barriers to university, but Nosia Fogogo's determination led to her studying Law.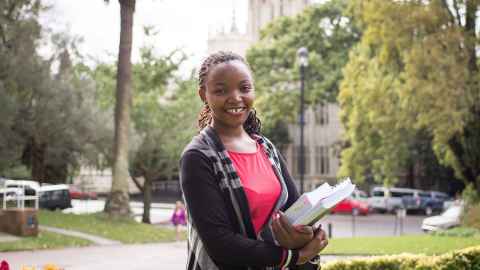 Imagine for a moment that you are a young teenager, and you have just travelled around the globe to land in a foreign country where you don't speak the language, know nothing about its culture and ways, have no community of support, and own nothing more than what's in your suitcase.
This almost-impossible-to-imagine scenario was Nosia Fogogo's reality when she moved to New Zealand from the Central African Republic of Burundi. In March 2005, Nosia and several of her family members arrived at the Mangere Refugee Resettlement Centre in Auckland. There, they spent six weeks learning about New Zealand life, language and customs.
Today, Nosia is a poised, articulate and confident Law graduate.
Back then, she says, she was a shy teen who, understandably, was torn by a range of emotions upon her arrival in New Zealand.
"I felt excited, scared, confused and lost. I spoke no English at all - that was the biggest hurdle. And I was in culture shock," says Nosia, who transferred from AUT to the University of Auckland to continue her Laws degree.
"There are so many things you do here that you wouldn't do at home – like making eye contact when you speak to elders, or greeting people casually, not with a bow and formal handshake. It took me ages to learn."
Nosia was determined to make the most of her time at the resettlement centre, focusing primarily on learning English and understanding the intricacies of New Zealand's social and cultural traditions. Despite the pain of leaving her home in Burundi, Nosia worked hard to be positive about her new life.
"Even though I was sad, I knew I would rather be here because of the opportunities New Zealand offers. I had to lose something to get what I have here," says Nosia.
While living at the centre Nosia met refugees from other countries - Somalia, Iraq, different part of the Middle East. Despite the language barriers, the community of strangers found a way to communicate.

"We all had different journeys, different experiences to get here. Everyone was so interesting and we wanted to interact with each other, but language was a barrier. We communicated by smiling."
From Mangere, Nosia initially moved with her family to west Auckland, where she entered high school.
The teenage years are challenging for most young adults; for Nosia, who took ESOL classes, it was a time of digging deep within herself to find daily resilience.
"Being a shy teenager who didn't have the language – it was hard. Plus, I was determined to do it on my own, so I didn't make a lot of friends."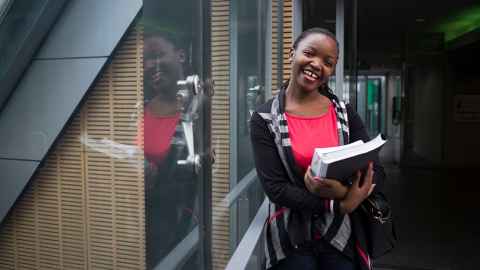 Eventually, Nosia moved to the North Shore and attended Northcote College, leaving at the end of 6th form. Nosia admits her entrance into adulthood was tough: she was determined to gain a tertiary qualification but, after enrolling in different programmes, she realised her language skills could not support the academic requirements of university. Refusing to be thwarted, Nosia took time out to travel, eventually returning to New Zealand to embark on a travel and tourism course to improve her spoken and written English. After a year of working full-time in the tourism industry, Nosia felt confident enough to enrol at AUT in a Bachelor of Business degree. After a year, she decided Law was her calling and completed the first two years of an LLB.
"My family has always been focused on higher education, and they want only the best for me and my siblings. The University of Auckland was always my number one choice because it is the best in New Zealand. The calibre of the degree, the respect it has around the world…I know I learnt from the best."
During her time at University, Nosia was  impressed with the supports the University has in place for its staff and students from refugee backgrounds (SSRB).
As part of its commitment to being safe, inclusive and equitable, and acknowledging the barriers faced by many people from refugee backgrounds, the University identified SSRB as a distinct equity group in 2012. That same year, it also established the Students from Refugee Backgrounds Network, which is guided by an advisory panel.

The Equity Office – Te Ara Tautika provides advice and guidance, and eligible students from refugee backgrounds can now enrol via the University's Targeted Admission Schemes (UTAS). For Nosia, such resources and initiatives help ensure people from refugee backgrounds are not just welcomed here but are supported to succeed.
"It's really good to know the Equity Office exists. I can't speak for other refugee students, but it can be really hard. You don't always know who to go to for advice."
The Equity Office's Director of Student Equity, Dr Terry O'Neill, says the value that comes from supporting people from refugee backgrounds can be seen not just at the University but in society as a whole.
"Our University community is amazingly diverse and our staff and students from refugee backgrounds add to this richness. Nosia has described vividly many of the challenges faced by SSRB but her experiences also demonstrate that, given the right opportunities and support, she and other people from refugee backgrounds have huge potential to contribute to our society, and to our future economic success and prosperity."

As she embarks on her pathway at the University of Auckland, Nosia has simple messages for the diverse members of her new community.
"If you are a refugee student, big congratulations. It is an amazing achievement to get here. Don't forget to get involved with University activities, join clubs - don't think you have to do this on your own. Know who you are and don't give up until you achieve what you want to.

"To staff, thank you for supporting us, for recognising that we need you. Thank you for caring. We are here to achieve something and to have you supporting us means so much.

"If you are a non-refugee-background student, just be approachable, be a friend. Being a friend can change someone's life."
As for her own hopes and aspirations? Despite – or perhaps because of – her somewhat convoluted journey to the University, Nosia is crystal clear about her future:

"I want to help. If just one or two people see that if I can do it, they can, too – that will be the biggest achievement I could ever have. I want to contribute to the society that has educated and supported me. I want to be part of the community, to get involved and help change lives."