Escaping from war-ravaged Sri Lanka as a child motivates Pirunthan to seize every opportunity.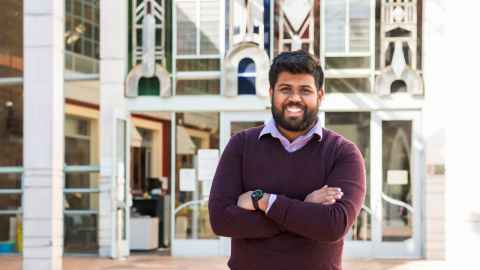 Escaping from war-torn Sri Lanka as a young child motivated Pirunthan Balaras to make the most of life in New Zealand. Now he has taken up a graduate role with top-tier accountancy PwC.
With more than 800 students from refugee backgrounds enrolled at the University, the Equity Office Te Ara Tautika leads a range of initiatives to support this growing community, in partnership with faculty liaisons.
Pirunthan says the School of Law's mentoring for equity-group students was one of the biggest forms of support in his studies, setting him and other students from refugee backgrounds up with tutors for core subjects.
"It was brilliant. It was two-on-one or one-on one. The tutors were able to tailor the lessons to our understanding."
Pirunthan graduated with a BCom/LLB in 2021, while working for PwC in corporate taxation.
He attributes his success to formative experiences in Sri Lanka.
Pirunthan's earliest memories include a bomb explosion at an outdoors concert, which sent survivors scattering, including Piru's family who jumped a fence to get away.
The family moved around constantly. They were members of Sri Lanka's Tamil minority in the occupied north of Sri Lanka. The army was constantly present and they had to remember not to speak their native Tamil for fear of getting "rounded up".
Pirunthan's father escaped to New Zealand as a refugee just after Pirunthan was born and, a few years later, was able to bring his family out.
Pirunthan struggled at kindergarten and then primary school, because English was his second language.
That all changed at Waitakere High School, once he had a strong grasp of English and could choose subjects he enjoyed, including science.
Pirunthan says he took every opportunity to get involved and excelled at school.
"Growing up, we didn't have too much. We didn't have anything stable in Sri Lanka. So I would latch onto any opportunity. I volunteered for anything. So I had something to do."
After finding medicine wasn't for him at Otago, Piru returned to Auckland to study Law and Commerce.
Pirunthan started teaching in the Auckland Business School, while he was still a student himself.
"I went up to the lecturer and asked if I could be part of the teaching team. That opened doors. Through my experience of teaching, I was able to apply for internships."
Pirunthan wanted to show appreciation to his parents for bringing him to New Zealand.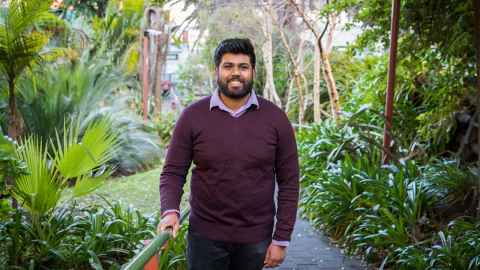 In Sri Lanka, we didn't get too many opportunities. So that motivated me to say 'yes' to anything that came along.
His advice to younger people from refugee backgrounds would be to network at University.
"You never know when a persons you randomly talk to in a lecture may be able to help you."
It was through making contacts and teaching, Piru had contacts who vouched for him and supported his transition from University into a professional career.
The Equity Office website has a range of resources and support information for students from refugee backgrounds, including about campus visits, pathways to the University of Auckland, Scholarships, top tips, success stories and faculty contacts, see equity.auckland.ac.nz/SSRB