Discover Brandon's experience of 'Reimagining India' during the 2023 Prime Minister's Scholarship Programme for Asia (PMSA) with IndoGenius. This programme was offered as a group programme with PMSA funding through 360 International.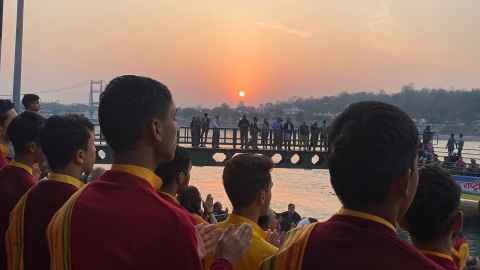 Tell us briefly about yourself and your trip:
Kia ora koutou, ko Brandon Jost-Turei toku ingoa. I'm born and bred in Papakura, but whakapapa back to Tainui & Taranaki. I'm still in Tamaki Makaurau in my third year of a Bachelor of Commerce, majoring in International Business and Marketing.
I was recently blessed to be a recipient of the PMSA, going over to India for a six-week group study tour through IndoGenius.
The study tour comprised of a multitude of visits from a variety of industries —from Yoga retreats to multi-national companies (MNCs). We met a range of personalities and people — from the G20 Sherpa, to primary school children —traversing the entire country from Tamil Nadu all the way to Uttarakhand. We visited ten different cities in total.
The programme was designed to show an often overlooked side of India. There are many misconceptions about India and I would be lying if I said I had none going into the program, but in every experience we explored, I walked in with an open mind. In doing so, the program has furthered my skills, attributes, and outlook on life. It's done wonders in furthering my knowledge on some topics, but mostly it was helping me understand there's still so much to learn about the world and myself!
Tell us about an aspect of your experience that you enjoyed the most as part of the Reimagining India programme.
There isn't any specific place I enjoyed the most. Every day for six weeks, we explored a plethora of things. However, all throughout, one of my favourite things, was learning to Bollywood dance.
I'm certainly no dancer by any means but going around to the different schools and doing a dance we were taught always felt special and brought energy to our audience.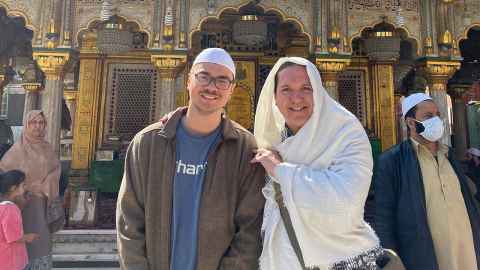 What sort of support services were available to you while you were overseas?
We were very fortunate to have a great support team with us all throughout, from the IndoGenius programme facilitators to the 360 International staff, and each other.
Our everyday support system was felt through our Yoga teacher, who also doubled as our nurse throughout the tour. She took every one of our concerns seriously.
I remember there was a hotel in a Delhi where my sheets appeared to have been stained. I put it in the group chat just to show everyone to be cautious. Within five minutes, our Yoga teacher had requested new bed sheets for me, I didn't even have to ask her for help!

What advice do you have for anyone considering undertaking an overseas learning experience as part of their degree?
Applying: If you don't feel like you are worth at least applying, give yourself a semester to work your hardest and to really explore all of what the University offers, and I assure you that you will feel more than deserving of it by the end of it.
Exploring: Expand the range of countries you are interested in, to include the Global South. One day everyone will find out how remarkable these nations are, so invest your mind and time in them early before they exceed our expectations!
Abroad: Just have confidence and pride with your identity overseas. Speak with dignity about your cultural background, your Whanau, your personality, who you are. Introduce yourself with honour, and others will address you with dignity!
Join this programme in 2024
The University of Auckland has secured funding to partner with IndoGenius for the 3rd edition of the PMSA Reimaging India Study Tour in 2024. If you'd like to learn more about this experience and how to apply, visit our Prime Minister's Scholarship Programme page through the link below, or contact the 360 International team at 360international@auckland.ac.nz.