Going on exchange is one of the biggest decisions you can make. Dylan Dong gives us his guide on what to consider before making the leap.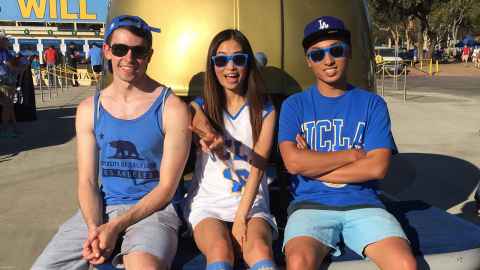 As the new year approaches, for many it is time to delve into new resolutions, experiences and challenges. One of the biggest decisions you can make at University is whether to embark on a semester or year-long exchange. As an exchange veteran with one semester in the USA and one in Italy under my belt, I am here to offer some tips and advice.
What is an exchange?
An exchange allows you to study at an overseas University for a specific length of time whilst paying your normal New Zealand tuition fees. You will choose a set of courses related to your degree to study while abroad, which can be credited back to your degree once you return home.
One of the best things about exchange is that usually your grades aren't transferred to your academic transcript, just the credits for passing the course.
But an exchange means leaving behind a familiar environment, family and friends for a prolonged period of time. It can be extremely daunting even for the bravest of us!
So, why do it?
Personal growth
Nothing beats being thrown into the deep end of a new country, culture or even language. It will quickly help you learn about yourself and the world around you. You will have millions of highs and maybe some very deep lows and they will help shape you to become a better, wiser person.
Going on exchange is more like starting out in a video game with a new character with all the possibilities to build whatever life you want, and a clean slate to be whoever you want to be.
New friends
Out of all the most unlikely possibilities that could ever happen in this world, walking away from an exchange having made zero new friends is about a rarer chance than pigs learning how to perform on Broadway.
You won't know who they are until you get there, and that's literally the most exciting, scary, and beautiful part of it all. Some of these people could even have a lifelong impact on you… and at worst they'll be cool friends to visit if you ever pass through their home cities in the future.
Travel
If you're a fan of travel like me, this is the best time to get as much done as possible. You could be studying in a region where flights to other countries cost less than a Big Mac combo. Or you could be in a beautiful country where you end up exploring every nook and cranny during the weekends. Whatever your travel style is, you will find a University and location that suits your preferences.
Travelling normally is fun, but travelling on exchange is a whole different story. Especially if you're with your newly-made exchange friends, it's a great way to bond quickly and make memories that last a lifetime!
Culture
If culture is your forté, perhaps an exchange is for you. There could be so many reasons to live in the country of your dreams, whether it's to connect with your ancestral homeland or to pick up a language you've always wanted to learn. You'll gain a much greater understanding of the country than if you simply went there and did some tourist things.
Although a few months can be a short time to be fully accepted as a local. We all know that one guy/gal who comes back home thinking they're all cultured but barely learnt to say thank you in the country's language, so at the very least you can become the next meme amongst your 'normal friends' back home.
Great memories
The months you are away on exchange can be some of the best you'll ever experience in your life. Since you're in an unfamiliar environment, every day you will encounter new things, places, ideas, people, and even animals (shoutout to the squirrels of UCLA!). This all creates the effect of time almost passing in a completely different manner, as if you're having fun literally every second of the day.
Academics
Oh yeah… there's the 'study' part of study abroad. This can definitely be an important one for you, with so many high-calibre professors and courses at universities around the world. It's your chance to do courses within your study area that aren't quite offered at your home University, or spend time with teachers who think and approach teaching in a different way. Studying overseas will definitely broaden your views on the ways in which education can possibly be delivered successfully. What's more, sometimes there is the chance to attend conferences, join clubs or even gain research or work experience that you'd never get the chance for back home.
So those are some pretty cool aspects of going on exchange, but what about the factors that might be holding you back? As always, there's two sides of the coin and it is definitely worth pondering over these factors before making the big decision.
Things to consider
Money
Yup, let's face it, going overseas on exchange is expensive. Flights, accommodation, insurance, and food are all things you should expect to cover. If the costs are simply too much for your financial circumstances, exchange may not be an option. Although every country, city, and University has different living costs I'd say around $10,000 should be put aside for an exchange (not including tuition fees as you are paying that to your home University anyway). If you plan on doing a lot of travel I would up that figure proportionately.
How to minimise your expenses:
Choose a country with low living costs for things such as food, or somewhere on a cheap flight route from home.
Find financial support through grants and scholarships available at your University e.g. Prime Minister's Scholarships for Asia and Latin America.
Use your student allowance and student loan living costs.
If you already live away from home in New Zealand, the accommodation costs won't cause much of an extra drain on your finances. The weekly cost of living in most countries won't usually surpass the cost of living in an Auckland hall of residence as a rule-of-thumb.
Course crediting and admin
Each University will have different procedures for exchange students and sometimes you will feel like you have hit a bureaucratic wall. This is probably the bane of every exchange student's existence but it is a necessary to ensure you have a great time overall.
The best advice I can give is to never give up because everything will be worth it once you begin enjoying the fruits of your labour. Do your research early, and always have backup plans for courses, accommodation, or anything else that can suddenly change.
Rocking up to find a course that is full or cancelled can be worse than any horror movie, but exchange is all about adaptability and overcoming obstacles so keep calm at all times, be flexible and use whatever resources you have available to fight the good fight! Sometimes it's the things that don't go our way which really teach us the best lessons in life and makes us stronger.
Personal circumstances
Everyone has a different life back home and you'll most likely have to consider yours as well. It may be that your family aren't supportive of their favourite child living alone in a foreign country, or a potential long-term relationship that may become long distance. There are all sorts of barriers possible, but in general keeping the communication strong to all relevant people will make your chances of a successful exchange much higher.
Timing
They say that timing is everything, and that can be true in every sense of the word. Many degree programmes will have an optimal period for students to be studying on exchange e.g. 2nd year and 5th year for long degrees or conjoint programmes.
If you're in 1st year and think there's the tiniest possibility you might want to go on exchange, do your research now and save the disappointment later down the line. Don't let it catch you out as sometimes an exchange is not possible past a certain point of your degree.
The earlier you start thinking about it, the better your chances are of planning your courses to not delay your degree or graduation. That being said, sometimes people do have to stay back at uni for another paper or semester as a result of exchange, but many end up realising it doesn't have the same catastrophic effects on their life as they thought it would.
Now if you've made it this far, congratulations!
You must be pretty serious about embarking on a journey that could potentially change your life. But this is just the start. The real fun is looking at potential places you could go… and then picking your university choices!
Obviously I'm pretty biased about going on exchange, and there's a massive list of people I've low key encouraged over the years to have their own exchange experience. Out of all the people I've talked to, I've never heard anyone say they've regretted going on exchange but I have heard a lot of people regretting not going despite having the ability to do so.
For all University of Auckland students who come back from exchange, we have to write a report about our experiences. I'll leave you all with a snippet from mine - I think it sums up the idea of taking the leap pretty nicely:
Money will come and go throughout your lifetime. Many people will come and go. An opportunity for this life-changing experience only ever comes once.