Lorenzo went from studying Computer Systems Engineering at the University of Auckland, to working as an intern with GEO Group in Taiwan.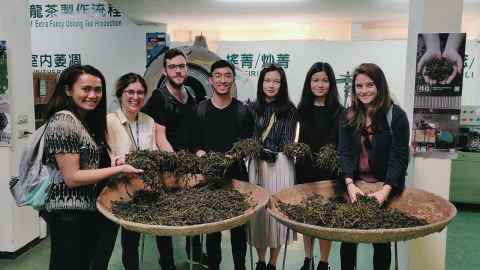 "Overseas work experience is greatly beneficial to anyone in the early stages of their professional career given how globally interconnected businesses can be today. Taiwan was of particular interest to me as the country has long been a global leader in the semiconductor industry and now has a growing presence in the software domain, in fields such as cloud computing and artificial intelligence. I wanted to see first-hand the differences and similarities between engineering work in New Zealand and abroad.
"I worked as an intern with GEO Group, a local consultancy in Taichung City specialising in geospatial technologies, project management solutions, and integrated marketing solutions. I also attended cultural/business workshops at the Taichung campus of Taiwan's International Trade Institute located at National Chung Hsing University. Working overseas has highlighted to me the areas in which my experience is directly applicable, opening up more options I can pursue after I complete my studies."
My internship in Taiwan allowed me to build on my experience with geospatial technologies and to appreciate the fact that every modern city has its own unique infrastructure issues that are being solved with these really cool technologies.
"I was able to gain familiarity with the office culture of a foreign engineering consultancy, as well as a good grasp of the values and practices that build successful professional relationships in Taiwan and other Chinese speaking countries. My work colleagues were incredibly kind and welcoming. They helped me settle in well, took me out try some new local food each day, and I now have a whole office of friends to see when I next visit Taichung.
"Computer and software innovation are very exciting fields and I hope to find work in such research and development fields with topics like artificial intelligence and geospatial technologies. My overseas experience has reassured me that I am pursuing a career in an important and fulfilling industry."