Data Science is a rapidly growing field. Our graduates have the right foundation to manage and analyse big data, driving innovation in organisations across all industries.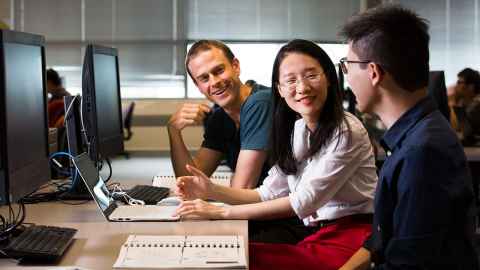 Subject overview
The last decade has seen an explosion in the amount of data available. It has evolved into the most important asset for many companies and people. Big data is ubiquitous, but to extract information, individuals require the ability to both manage and analyse the data. This ability to turn data into information, knowledge and innovative products often separates success from failure. 
Data scientists have the skill set to drive innovation and affect the success of start-ups, established businesses and organisations, governments and science projects, as well as media, broadcasting and cultural events.
The Data Science major will provide initial preparation for students wishing to pursue a career in this area. It ties together courses from Computer Science, Statistics and Mathematics to provide the necessary background and training.
The Department of Statistics is the birthplace of the R Project. Founded in 1996 by Associate Professors Robert Gentleman and Ross Ihaka. R is a programming language and environment for statistical computing and graphics. It is taught around the world and is used by Ivy League universities, Google, Uber, and many more organisations. Learn more about the R Project.
Where can Data Science take you?
On the world stage, Data Science is a rapidly growing field with an unmet demand for suitably qualified graduates.
Data analyst

Data scientist
Database administrator
Developer
Information officer
Insight manager
Statistician
Explore your study options in Data Science