Postgraduate study in Earth Sciences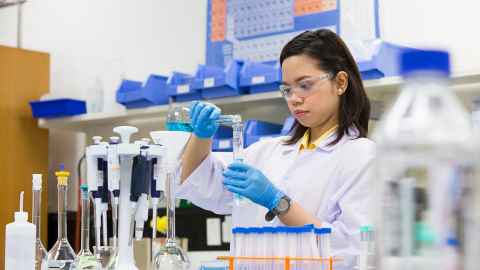 What can you study in Earth Sciences?
Postgraduate study in Earth Sciences encompasses the study of the earth and earth processes that can also fall into the disciplines of geology, geophysics and physical geography.
Areas of research interests open to exploration include:
Climate and Society
Coasts and Rivers
Environmental Change
Hazards and Disasters
Natural Resources
Volcanology, Petrology and Geochemistry

Structuring your postgraduate programme in Earth Sciences
Bachelor of Science (Honours) BSc(Hons) in Earth Sciences
Postgraduate Diploma in Science (PGDipSci) in Earth Sciences
Up to 30 points from 700-level courses as approved by the Programme Coordinator.

Master of Science (MSc) in Earth Sciences 120-point research masters
Master of Science (MSc) in Earth Sciences 240-point research masters
Courses
Explore the postgraduate courses you can take for a Earth Sciences major:
Where can postgraduate study in Earth Sciences take you?
Our graduates establish careers in areas such as resource management, hydrology, hydrogeology, coastal management, catchment management, water resources, mineral exploration, petroleum exploration, environmental geochemistry, engineering geology, natural hazards research, meteorology and geothermal energy.
Jobs related to Earth Sciences
Climate scientist
Engineering geologist
Environmental assessment, restoration and rehabilitation
Environmental consultant
Exploration geologist
Geochemist
Geologist
Geomorphologist
Geophysicist
Geotechnical analyst
Hydrologist/hydrogeologist
Landscape modeller
Marine geologist
Palaeontologist
Resource, hazard, risk and environmental analyst/manager
Seismologist
Soil scientist
Sustainability consultant
Volcanologist
Scholarships and awards
Each year we award scholarships and prizes to thousands of students.
Find out about the scholarships you may be eligible for, search available scholarships or begin an application by visiting Scholarships and awards.
Help and advice
Student Hubs
Visit your hubs for help and advice on any aspect of your studies and life at University.
The Student Hubs are your physical gateway to Waipapa Taumata Rau | the University of Auckland.
The Student Hubs services are available seven days a week at the City, Grafton, Epsom and Tai Tonga campuses and six days a week at Tai Tokerau, with friendly staff available to provide you with advice on any aspect of your studies and life at the University.