Geography explores how our social and biophysical worlds came to be the way they are, and how they are changing. Geographers focus on understanding the things that matter for people in their many places, and on what needs to be done to address environmental change, uneven development and social inequality on multiple scales.
Subject overview
Geography is exciting and relevant. You'll enjoy Geography if you're interested in the worlds around you and want to make a positive difference. Geography addresses a wide range of contemporary challenges such as: climate change and sea-level rise, dirty rivers, uneven economic development, sustainable communities, migration, housing and health policy, urban pollution, indigenous rights, and environmental management.
Geographers study places, human and physical interactions and the processes that shape those interactions. They explore why nations, regions, cities and communities develop differently in different settings, how landscapes are formed, how social, economic and natural landscapes are related, and how to make better worlds by responding effectively to human-environment problems.
The University of Auckland Geography programme is the highest-ranking in New Zealand, and 30th in the world. As geographers we study what's special about places, and our programme highlights Auckland and Aotearoa/New Zealand: its distinctive topography and coastline, fascinating cultural and economic history, exciting social diversity, and innovative responses to environmental challenges. We include Māori and indigenous knowledges across our teaching curriculum and research programmes. We also acknowledge Auckland's Pacific character and connections to island nations as well as links with Southeast Asia and beyond. You can study Geography as an undergraduate major or postgraduate specialisation in either the Faculty of Science or Faculty of Arts programmes.

Where can Geography take you?
Geographers are sought after as effective critical thinkers and problem solvers. In our courses you'll study real world issues. You'll also develop the diverse practical skills, ethical insights and analytical capabilities required to address them and lead debates in all parts of society. Our graduates build successful careers across a range of roles in research and development, government, policy, industry, and education.

Meet a graduate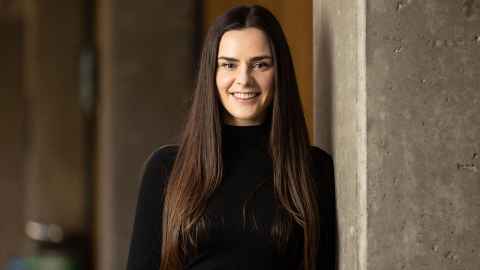 Geography is such a fantastic subject in that it is broad and covers a wide range of courses from climatology to socio-economic change.
Read Courtney's full story here.
Explore your study options in Geography