Geography and Environmental management graduate Courtney Simpson, is applying her skills developing sustainability strategies for businesses.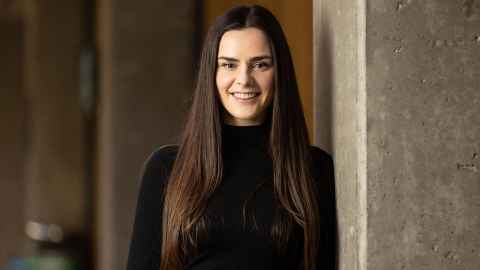 Programmes: BA Geography, BSc (Hons) Geography, MSc Environmental Management
"Since a very young age I've had an immense interest in our environment and society. Geography offers the study of both to best understand the interconnections and interactions between the two and the best forms of management for both.
"Geography covers a broad range of topics from extreme weather to population growth. It is the study of people and our natural environment which provides excellent context to how our world functions. The learnings I gained through Geography helped in framing my direction and has been fundamental to my career.
"Since leaving the University of Auckland I have been the manager of the sustainability department for a number of large New Zealand businesses in the tourism, energy, primary and waste sectors. This role includes the development and implementation of sustainability strategies, projects and partnerships. To support my professional career, since obtaining my MSc from the University of Auckland I have also obtained an MBA and am conducting a PhD in carbon markets from the University of Otago.
Geography is such a fantastic subject in that it is broad and covers a wide range of courses from climatology to socio-economic change.
"My advice would be to embrace the diverse range of topics Geography offers and to learn as much as possible about each to understand the interactions between the physical and social processes and the management of them.
"I had fantastic mentors throughout my time at the University of Auckland, namely, Senior Tutor Mel Wall, Professor Robin Kearns, Associate Professor Nick Lewis and Associate Professor Karen Fisher. Their teachings, advice and support was instrumental for my studies and my early career.
"When I was at the University I attended (during undergraduate) and helped run (during postgraduate) the Geography Association, which is a fantastic and very fun social platform for Geography students to network. The Geography Association paired with the learnings gained in the lecture theatres truly gave me the full University experience one hopes for when starting on their University journey."