Education focuses on teaching methodology based on the theory and practice of how people learn. It can be studied as part of a teaching qualification or within an Arts degree.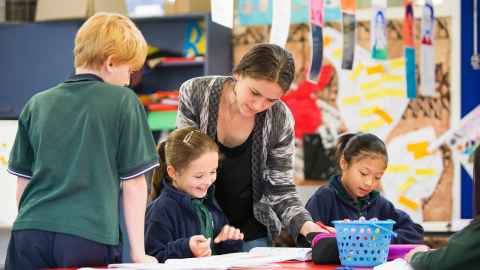 Subject overview
Education is broadly the study of learning and teaching at all stages of people's lives. It includes the history, sociology, philosophy, politics and psychology of education and teacher preparation.
Studying Education as a teaching qualification equips you with the knowledge and skills to be an excellent teacher. It covers a wide range of topics, including the theory and context of education, philosophy and ethics, the New Zealand curriculum, teaching specific subjects, and assessment. It looks at how people learn, how to work with whānau and communities, how to engage children in meaningful learning, the history and philosophy of education in New Zealand, te reo and tikanga Māori, and the importance of the Treaty of Waitangi. The programme also involves in-depth study of the NZ Curriculum and Te Whāriki.
You can specialise in Early Childhood Education, Primary or Secondary teaching, Huarahi Māori (Māori-medium teaching), teaching Sport, Health and Physical Education, or Teaching English to Speakers of Other Languages in schools.
The BA pathway offers courses covering theory and research across a wide variety of areas, ranging from child and adolescent development to treaty politics in education. If you then decide you want to enter teaching as a profession, you can add on a one-year teaching qualification. Our graduates are in high demand. We are New Zealand's top ranked university for Education and have an international reputation.  
Where can Education take you?
You could work as a teacher at various levels within the education system or in education management, research or policy. You might take on an education-related role in other organisations such as youth services, the arts, government, social services or information management.
Explore your study options in Education